No albums list this artist in credits. You are able to edit albums and add credit info if you have created an account.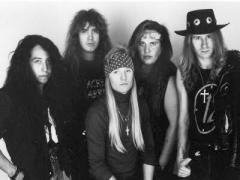 Sacred Warrior
Sacred Warrior is a Christian band that plays melodic, progressive hard rock/metal, often quite reminiscent of Queensryche and Iron Maiden.
The band was formed out of a general market metal band known as Nomad, which formed in 1985. Subsequent to the conversion of guitarist Bruce Swift to Christianity, he lead fellow band members Tony Velasquez and Rey Parra. He also led Rick Macias, who had been a bouncer at a nightclub. Steve Watkins joined the band as bassist in 1988 and Sacred Warrior was formed.
Rick Macias left the band in 1989 and was replaced by John Johnson for the 1989 - 1990 tour. John left the band in 1990.
Joe Petit joined the band in 1991  and continues as keyboardist today.
Sacred Warrior broke up in 1994 and then reformed in 2000 to do a Cornerstone Reunion Show.  Rey moved to Florida and the rest of the guys stayed in Chicago making it difficult to continue writing music.
Sacred Warrior re-formed in 2008 and is now touring again.  They put together what is one of the heaviest CD's yet. It is hard yet still has the Warrior feel to it and don't be thinking that Sacred Warrior is going to wimp out on the lyrics. They state, "We think that today more that ever we need to bring the Gospel of Jesus to the forefront."
Rey Parra Left the Band in 2012 and was replaced by Eli Prinsen.
Sacred Warrior. (n.d.). Retrieved December 1, 2014, from Sacred Warrior website: http://www.sacredwarrior.net/aboutSW.aspx
Where are they Now:
 Reformed with vocalist Eli Prinson, recorded a song "Waiting In Darkness" which is available Dec 2012 only as a video on YouTube.
Websites:
External links are provided for reference purposes. Christian Music Archive is not responsible for the content of external internet sites.