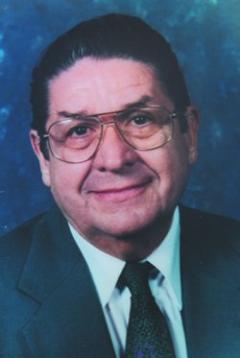 Richard Blanchard
Richard Eugene Blanchard Sr. was a pastor and songwriter who was widely known for writing the popular "Fill My Cup, Lord" (gospel song).
During the late-1980s, Blanchard wrote a beautiful musical, "Francis of Assisi," which was produced by Glenn Longacre of Conway for an audience of 600 people. During this period, he was also named "Minister Emeritus" of the Conway Church. In addition to writing numerous gospel songs—many of which were published and recorded—Blanchard also wrote other things. While at Snellville as a young theologian, he wrote a column called Between You and Me every week for the Wesleyan Christian Advocate, the Methodist paper for North and South Georgia. He also wrote a story called "The Little Star" which was published in Ideals magazine. Blanchard was selected to write an official biography of Bishop John Branscomb. Blanchard completed "We Remember John" in time for the dedication of the Branscomb Memorial Auditorium in Lakeland, Florida.
Certainly Blanchard's most famous song was "Fill My Cup, Lord" (which became a classic). During the 1970s the song was popularized throughout much of the United States by Blanchard's close friend, musician and evangelist Rev. Ray Vaughn.