No albums list this artist in credits. You are able to edit albums and add credit info if you have created an account.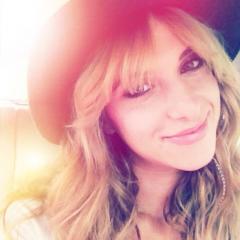 Lara Landon
Perfect tension the pulling of the rope from both ends is one of the things that keep tightrope walkers balanced as they walk over the heads of their audience. Its much the same way with the music of burgeoning artist Lara Landon. She subtly invites the listener to sit in the middle of the moment, surprising them with an intriguing combination of opposites that pull with equal strength.
One of the first things you notice about her is her striking beauty, the result of an Arabian father and Sicilian mother.And in the midst of a lighthearted conversation, she'll let fly a piece of insight that reveals the depth of her introspection. She is both joyful and dark, easygoing and pensive, drawing from different sides of her personality to offer a fresh perspective to the Nashville music scene.
After writing songs for four years and playing piano for twelve, Lara packed up her belongings and moved from southern California, to pursue a music business degree at the prestigious Belmont University.While most parents insist on a backup plan, Lara's parents were the ones who suggested the move, pushing her toward her dream and encouraging her to seize the opportunity to make an early mark on the industry.
Lara landed in Nashville at the age of nineteen without knowing a single person or having any idea how to pursue a career as a musician. But within a year, she had made coveted connections with many of the citys musical veterans, and she began writing with award winning songwriters like Jason Ingram, Christa Wells (Held, Natalie Grant) and Tiffany Lee of Plumb. Much in the vein of Sarah McLachlan and Tracy Chapman, Lara writes from the darker shades of her personality. "I believe that its better to feel something strong than nothing at all. And in those places where I doubt, I am most reminded to reach out to God.When I work through my thoughts in my songs, it helps me to sort through the feeling and come back to the truth.''
Landon's debut album, Beloved, was produced by GRAMMY® award-winning talent Michael Omartian (Amy Grant, Christopher Cross, Rod Stewart) In fact, the Beloved recording process proved to be not only the chance of a lifetime but also breeding grounds for her artistry, as she was able to work with well- respected songwriter/ producers like Jason Ingram, Plumb and Mitch Dane. Beloved solidified Landon's identity in Christ and resonated with fans as they, too, discovered how they could become His beloved thanks, in part, to successful radio single "Closer," which stayed on the charts for most of 2010.
If Beloved conveyed Landon's revelation about who are in Christ, her second full length project, Overcome, which iTunes named "one of the top Christian albums of 2012", speaks to our authority as His beloved to triumph over life's most difficult circumstances. Landon has taken that message on tour and abroad, serving the least of these with New Reality International, the non-profit she and her sister co-founded in 2006.
"Being on the road, sharing my songs with people in different settings, has allowed me to see the real needs they have," shares Landon." I was able to see how they were hurting, how they needed encouragement, and how God was moving in similar ways all across the world."
Meeting needs firsthand—whether it be in Haiti on a mission trip or in church singing— is a significant part of the Riverside, California-native's ministry and has undoubtedly had a profound effect on her. But Landon affirms the depth of her songwriting was most influenced by the three years she spent singing at Nashville's House of Prayer."I loved the world that opened up to me atThe House of Prayer," says Landon."I never thought I could sing and pray for hours on end. I learned how to make up Scripture songs on the spot, and I began to feel the depth that could come from using God's Word to pray and intercede." The songs on her new record reflect Landon's time spent in the Word and a sensitivity to the needs and diversity of her fans.
In March of 2013 Lara became the Worship Director at Birmingham's House of Prayer where she led live worship sets 3 days a week."I never would have chosen to leave Nashville to move to Birmingham but God made it so clear that I went out of obedience and soon found out it was one of the best choices I ever made" Landon Shares.
Upon returning to Nashville, Lara teamed up with producers Otto Price, Michael Farren and Evan Sieling to begin recording her new, fan-funded project. The album will be released and distributed by The Fuel Music (Gungor, John Mark McMillan,TFK, Bethel Music) in August of 2014, titled by it's first single There Is Grace. This 10 song album boasts writing credits from some of Christian music's finest writers including Jennie Lee Riddle (Revelation Song), Michael Farren (Let It Rain) and Elias Dummer (Holy Wedding Day). Landon explains "I'm excited that I had the chance to create songs with people who have literally written three of my favorite worship songs of all time."
Whether she's meticulously crafting lyrics or ministering to the physically and spiritually needy, authenticity reigns supreme with Landon. Her main goal is to be an intermediary. "I've learned over the past few years that my job, and success to me, is connecting people with God and connecting God with people—whether that be through hands-on service, or a simple melody that I'm playing on the piano," she says."I'm a connector, and if I'm doing my part correctly, I will disappear and leave people face-to-face with their own heart and the heart of God."
Between her voice and her piano, she perfectly executes the music that she hopes will reach deep into her audience's souls. Pulling from the dark and pushing into the light, arms outstretched in both directions, Lara establishes that balance again the juxtaposition that makes her music feel moody and hopeful, joyful and broken, all at once. And it is a beautiful, perfect tension
Websites:
External links are provided for reference purposes. Christian Music Archive is not responsible for the content of external internet sites.