No albums list this artist in credits. You are able to edit albums and add credit info if you have created an account.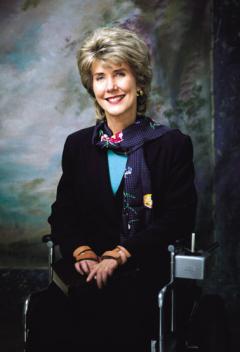 Joni Eareckson Tada
Joni Eareckson Tada is an evangelical Christian author, radio host, and founder of Joni and Friends, an organization "accelerating Christian ministry in the disability community."
Biography
Tada was born in 1949 in Baltimore, Maryland, the youngest of four daughters. She was named "Johnny" after her father, as he had hoped for a boy.
As a teenager, Tada enjoyed riding horses, hiking, tennis, and swimming. On July 30, 1967, she dove into Chesapeake Bay after misjudging the shallowness of the water. She suffered a fracture between the fourth and fifth cervical levels and became a quadriplegic, paralyzed from the shoulders down.
During her two years of rehabilitation, according to her autobiography, she experienced anger, depression, suicidal thoughts, and religious doubts. However, Tada learned to paint with a brush between her teeth, and began selling her artwork. To date, she has written over forty books, recorded several musical albums, starred in an autobiographical movie of her life, and is an advocate for disabled people.
Tada wrote of her experiences in her 1976 international best-selling autobiography, Joni, The unforgettable story of a young woman's struggle against quadriplegia & depression, which has been distributed in many languages. The book was made into a 1979 feature film of the same name, starring herself. Her second book, A Step Further, was released in 1978.
She married her husband Ken Tada in 1982. In 2010, she announced that she had been diagnosed with breast cancer. She emerged successfully from cancer surgery and is hopeful of a positive prognosis.
Ministry and public life
Tada founded Joni and Friends (JAF) in 1979, an organization for Christian ministry in the disabled community throughout the world. The organization grew into the establishment in 2006 of the Joni and Friends International Disability Centre (IDC). The building was designed by Vincent Dyer AIA, and the interiors were designed by Gensler and Associates.
Led by Tada and President and COO Doug Mazza, the Joni and Friends International Disability Center has four flagship programs. Joni and Friends, a daily five minute radio program, is heard over 1,000 broadcast outlets. In 2002 it received the "Radio Program of the Year" award from National Religious Broadcasters. The organization offers family retreats. Wheels for the World collects wheelchairs, which are refurbished by prison inmates and donated to developing nations where, whenever possible, physical therapists fit each chair to a needy disabled child or adult.
In 2005, Tada was appointed to the Disability Advisory Committee of the U.S. State Department.
Tada is a conference speaker. Her articles have been published in Christianity Today, Today's Christian Woman, The War Cry (Salvation Army), and newspapers around the world. Tada has appeared four times on Larry King Live.
In November 2009, Tada signed an ecumenical statement known as the Manhattan Declaration calling on evangelicals, Catholics and Orthodox Christians to work towards changing laws which permit abortion, and other matters that go against their religious consciences.
Joni Eareckson Tada. (2012, June 11). In Wikipedia, The Free Encyclopedia. Retrieved 12:34, June 13, 2012, from http://en.wikipedia.org/w/index.php?title=Joni_Eareckson_Tada&oldid=497125332
Websites:
External links are provided for reference purposes. Christian Music Archive is not responsible for the content of external internet sites.