No albums list this artist in credits. You are able to edit albums and add credit info if you have created an account.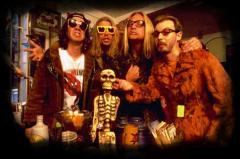 Galactic Cowboys
Galactic Cowboys were a heavy metal band based in Houston, Texas. They combined progressive metal with a vocal style influenced by The Beatles and the heavy playing style of thrash bands such as Anthrax. They have been described as "possibly the most melodic metal band ever to exist in Christian or general markets."
Galactic Cowboys was formed in 1989 in Houston, Texas by bassist Monty Colvin and drummer Alan Doss of the band The Awful Truth. When The Awful Truth broke up, Colvin and Doss joined singer Ben Huggins and guitarist Dane Sonnier to form Galactic Cowboys.
In 1990, the band was signed to DGC and released their self-titled debut album in 1991. Despite some favorable criticism, the band was ignored by the label due to the success of Nirvana's Nevermind during that same time. After poor sales and some touring, they returned to the studio and released Space In Your Face in 1993. Space... was the band's break into the general market. The album featured two minor hits for the band with "If I Were A Killer" and "I Do What I Do", both of which received regular airplay at MTV and the now-defunct radio station ZROCK. DGC released Galactic Cowboys from their recording contract, and the band parted ways with manager Sam Taylor and guitarist Dane Sonnier.
The band appeared in the 1994 movie Airheads, under the name "Sons of Thunder". The one original song they performed for that movie, "Don't Hate Me Because I'm Beautiful", is not available anywhere, and only a short excerpt is heard in the movie.
After briefly breaking up, the band reorganized with Wally Farkas on guitars and a new recording contract with Metal Blade Records. The band released a third album, Machine Fish, and an EP titled Feel the Rage in 1996. The album The Horse That Bud Bought followed in 1997, departing from the band's metal sound into a toned-down style.
The band recorded At the End of the Day in 1998, a concept album regarded by fans as the band's peak effort. Two weeks before the album's release, drummer Alan Doss left the band. Session drummer Erick Tatuaka performed drums on the subsequent tour.
Galactic Cowboys' final album, Let It Go, was released in 2000 and featured lead vocal performances by each band member. King's X drummer Jerry Gaskill, a friend of the band, performed drums on the album.
As of 2009, the former members of the band continue to be active in the music scene. The band performed 3 reunion shows in August 2009 in Houston, Dallas, and Austin. They also reunited for a special, one-off performance at Acadia Bar and Grill in Houston, Texas on September 13, 2013.
Galactic Cowboys. (2014, November 9). In Wikipedia, The Free Encyclopedia. Retrieved 14:01, March 4, 2015, from http://en.wikipedia.org/w/index.php?title=Galactic_Cowboys&oldid=633046215