No albums list this artist in credits. You are able to edit albums and add credit info if you have created an account.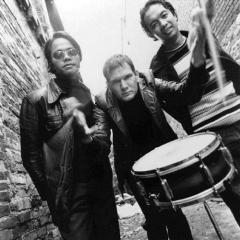 Fold Zandura
Fold Zandura is an alternative rock band from California. They released four albums between 1995 and 1999 plus one white 7" vinyl. Each album was released under a different label. The two premier members also founded the industrial band Mortal.
Fold Zandura was formed in December 1995 after the break up of Jyro and Jerome's previous band Mortal. They hired drummer Frank Lenz and self-released their eponymous debut. In 1997 they released two albums, the first aptly titled Return which featured 5 re-recorded songs from their debut and two new songs and an instrumental. They made a video for "Ember" filmed in a hospital. Later that year they released their major label debut Ultraforever on BEC Recordings. This time their new album contained 14 new songs and 2 songs from Fold Zandura. They made a music video for "Deep Surround" and also recorded two non-album tracks for two BEC compilations. Moms Like Us Too Vol. 1 featured "Serena," and Happy Christmas featured "Asia Minor". Sometime after Frank Lenz left the band in order to be closer to his family although he would continue to play at concerts close to home.
In 1999 they independently released , a seven song EP called King Planet. The band members were listed simply as Jyro and Jerome although Jyro's wife Carla does vocals on one track. The album was available exclusively through their website and a few Christian music stores.
In 2000 Jerome Fontamillas joined Switchfoot as a session musician and later joined them full time. The following year, "King Planet" was featured on the soundtrack to the film Extreme Days. In early 2002 Jyro released Juggernautz, a side project without Jerome on Metro One Music. Jyro Xhan is currently the leader of the band LCNA (Lucena) and goes by the name JFM. He also works with Crystal Lewis and various other bands as producer, engineer, guitar and keyboard player.
Wikipedia contributors. Fold Zandura. Wikipedia, The Free Encyclopedia. January 3, 2011, 14:35 UTC. Available at: http://en.wikipedia.org/w/index.php?title=Fold_Zandura&oldid=405689701. Accessed January 19, 2011.