Drew Shirley is listed in the credits for the following albums: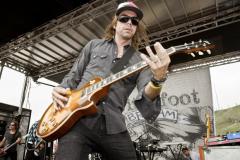 Drew Shirley
Andrew (Drew) Philip Shirley is an American rock guitarist, formerly of All Together Separate, and since 2005 of the Grammy-winning alternative rock band Switchfoot. Shirley attended California Baptist University studying a Fine Arts degree with a Music minor. During that time he also started and led various school bands and shows. He had only started playing guitar as a senior in high school. After graduating from college, he also began working with YFC as the Riverside area Campus Life director, working with local high schools. He started touring with Switchfoot soon after their 2003 release The Beautiful Letdown. He became an official member of the band on May 4, 2005. He has recorded five albums with the band: Nothing Is Sound (2005), Oh! Gravity. (2006), Grammy-winning Hello Hurricane (2009), Vice Verses (2011), and Fading West. Between leaving All Together Separate and his transition to Switchfoot, Shirley produced and played guitar on many different band projects. He still produces and plays on various musical projects.
Drew left the band in February of 2022 to pursue other opportunities. 
Websites:
External links are provided for reference purposes. Christian Music Archive is not responsible for the content of external internet sites.