No albums list this artist in credits. You are able to edit albums and add credit info if you have created an account.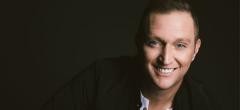 Doug Anderson
With such a demanding schedule, it's a good thing Doug Anderson doesn't just walk through life, he runs — with a smile on his face, grateful for every mile along the way.
As an original founding member of the award-winning group, Ernie Haase & Signature Sound, Doug is happy to be singing night after night with a group that tours constantly, and is in high demand. But now Doug, with the blessing of his good friend Ernie Haase, has taken on new duties as a featured solo artist, in addition to his favorite roles as smitten husband, adoring father, and committed athlete.
The road through Lapel High School and Purdue University was paved with Doug's basketball dreams. The all-county, all-state Indiana basketball player longed to become a college and NBA star, but this standout athlete, who went on to play for Purdue University, actually aspired to a greater goal — to become a full-time gospel singer.
As a member of a singing family, Doug's first love was music, and he believed with all his heart that God would one day allow him to live his dream of becoming a full-time quartet member. That dream first became a reality when Doug joined a quartet known as Lighthouse. But his membership with that group led to another significant bend in the path when he connected with a young member of the legendary Cathedrals, a tenor named Ernie Haase. Doug remembers, "We developed a pretty good friendship. We had a mutual love for quartet music and basketball. Knowing one day that the Cathedrals would retire, Ernie told me if he ever started a group, he would call me. A few years later he did."
Ernie Haase and Signature Sound are Grammy-nominated and GMA/Dove award-winning artists, and the grateful group logs hundreds of thousands of miles every year, both nationally and internationally. Still, even with all those new places to visit and new faces to meet, Doug manages to make concert-goers feel like treasured friends. Faithful fans feel comfortable talking with Doug because they know he means every word he sings, and he still follows the road back home to his real life in Lapel. Doug's wife Michele keeps the home fires burning during those cold winters in Indiana, but he rushes back as often as he can to see his sweetheart — and the two are having the time of their lives as they raise their daughters, Isabel and Emma, and share small-town memories as a family. Doug is known for his daddy-daughter lunch dates at the school during the week, as well as watching and playing a variety of sports with all three of his favorite girls, throughout the seasons of the year. "Family time is so precious," Doug says with a smile. "We spend every possible moment together."
Fresh off a European tour, Doug, Ernie, and all the members of the group are anticipating upcoming trips to minister in Australia, South Africa, and beyond, but their new label, Stow Town Records (founded in 2011 by Ernie Haase and Wayne Haun) is creating a wave of momentum far greater than the excitement of international travel! The inaugural Stow Town label release honored the unequaled George Younce with Ernie Haase & Signature Sound, and the second release will introduce Doug Anderson's first solo project to an eager fan base. "Dreamin' Wide Awake" releases in May, 2011, and Doug will bring those contagious new songs to the concert stage during the EHSS tour and a series of solo dates scheduled in key markets.
Websites:
External links are provided for reference purposes. Christian Music Archive is not responsible for the content of external internet sites.