No albums list this artist in credits. You are able to edit albums and add credit info if you have created an account.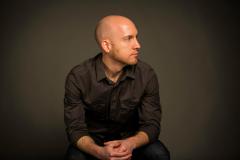 Danen Kane
A tender, finger-picked acoustic guitar chimes seven notes, descending a scale like a waterfall. Six notes follow, down again but then back up to a hopeful and bright rest. Then, Danen Kane's expressive voice declares the omnipresence of the Author of music: "He's in the breath inside you / He's in the falling rain / He's in the light that shines on / every morning day." A subtle, atmospheric electric guitar undergirds the melody with a double-time pulse, lending dimension and gradually moving the listener from reflection to response.
So begins "The Song that Set Us Free", the standout opening track from Kane's latest album Flesh and Soul. For the uninitiated, it's a fine introduction to Danen Kane's songcraft. His music leads the listener on the sort of journey that makes you look back in wonder and say,how did I get here? Two minutes into "The Song," and without realizing that Kane has gradually increased the tempo by one beat per minute every 30 seconds, you've collected potential energy and you're eager for something to happen. Then, at 2:15, Kane breaks all convention and lets the song explode. Cymbals crash, lyrical laughter bursts, and celebration ensues.
Danen Kane has never been afraid to break convention in his music, but he has a remarkable ability to maintain accessibility and consistency of voice while creating eclectic and sometimes surprising tunes. Part of that ability comes from his unconventional path to music ministry. Kane's first love was not piano or guitar, it was basketball. In fact, he didn't do anything musical until he was 20 years old, when he felt a strong call from God to lay down the hours invested in his sport and focus on pursuing his faith.
"During my sophomore year of college," Kane recalls, "I had a roommate who had an acoustic guitar and I was really curious. I grew up in a small town that didn't have any avenues of learning that kind of thing, so I just asked him if I could use it to try to learn some worship songs that I'd heard at Campus Crusade for Christ." Despite no formal guitar or vocal training, one short year later he had completed his first independent project.
Music was a profound discovery for Kane. The Wisconsin native notes that he didn't know he missed it until he found it. "In my small town we didn't have any evangelical churches. I didn't actually know that contemporary Christian music existed! So when I got to college and found Crusade, that was the first time I had met a bunch of people my own age who actually wanted to pursue their faith and I realized something; I have the same beliefs as them but they live very different lives than me."
Being honest with himself is something that has served Kane well both in his faith and his music. That honesty is part of the strong theme woven throughout the songs of Flesh and Soul. Kane explains, "There is a battle between flesh and spirit, a tension of living in our brokenness and our bodies and yet very much desiring God in every single moment. It's a daily battle for the brand-new Christian or the Christian of 40 or 50 years. This record is about embracing the journey of sanctification and encouraging myself and encouraging others that if you're not in the best spot, or if you're struggling or feel like you've taken a step back, to keep fighting and keep wrestling with that."
It was one of those times of struggle that inspired one of the most emotionally resonant moments on the album, a song called "I Miss You." Kane shares, "I've been in love maybe once in my entire life and that's the story of the breakup of that relationship, and even years later after the breakup still finding myself missing her very much." The vulnerability of the song becomes a gift to anyone who has felt the pain of heartache. "With God's grace and His sovereignty and His giving and taking away, there's a powerful thing that can be learned in the midst of questioning, being hurt, being angry, and being honest with Him."
There is broader application to the lessons Kane is learning from the experience. "I think about in the Bible how some people had to circle the desert for 40 years, where they had to spend enormous amounts of times to learn certain things, and yet we live in a 'Christian bubble' culture that suggests that when you say the prayer you have to have everything figured out, you have to be a mature believer, and you can't make mistakes. I think sanctification is a process. We're not meant to conquer struggles without our brothers and sisters holding our hand and holding us accountable and cheering us on and praying for us. For me this whole record is about saying, 'I'm not perfect, I do struggle, I've been walking with the Lord for 15 years and I'm still figuring certain things out. Here I am.' And God is in the midst of it. I think as long as our aim is Him, and we're resting our hope in the sacrifice and His power and His love, that's where we need to be."
"Love Song" expresses the idea beautifully, "All I want is / To be loved / Not for anything other than / Who I am / You're the love that can bring us alive / Hallelujah!" About the lyric, which contributes the album's title, Kane says, "I think I spend a lot of my time in life trying to prove to myself and to other people that I'm worthy of love. At the end of the day I just long to be cared for exactly the way that I am. We've been taught by our culture that we must have something to offer in order to be valuable. It's interesting, because that's the antithesis of the gospel."
Flesh and Soul colors its theme with lyrical and musical variety. "I Need You" is a scorching song of creed and confession. "When Our Time Here is Over" adds a funk beat, with aggressive electric tone, ambient instrumentation, and even a subtle horn line. And "One Step Ahead" highlights Kane's vocal through a gradual build to crunchy guitars, rock drums, and declaration, "You are the same, regardless of where I am." Through it all, the focus never wavers. There is a Love that seeks us, that is freely offered to us, and though we inexplicably grapple against it and count ourselves unworthy, it is steadfast and sure.
And oh, by the way, Danen is his given name, and yes, it's been misinterpreted as an unfortunately-named duo, "Dane and Kane." And despite that, yes, he likes his name. "I've grown to like it because it's unique and it's worked out well."
It's a name to remember, and Flesh and Soul will be an album remembered by many for its honesty, its wisdom, and its ministry.
Websites:
External links are provided for reference purposes. Christian Music Archive is not responsible for the content of external internet sites.