No albums list this artist in credits. You are able to edit albums and add credit info if you have created an account.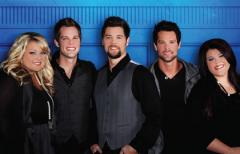 Crabb Family
The Crabb Family was a Grammy-nominated, Dove Award-winning Southern Gospel group from Beaver Dam, Kentucky. They had sixteen No. 1 songs on the national radio charts.
The group was composed of elder brother Jason, twin brothers Adam Crabb and Aaron Crabb, and sisters Kelly Bowling and Terah Penhollow.
The group was formed in Beaver Dam, a town in rural Kentucky. The family patriarch, Gerald Crabb, was the founder of the group and lead songwriter. Throughout their career, the group has released numerous albums and received several awards.
Although their roots are primarily Southern Gospel, the Crabb Family's recording, Blur The Lines features a variety of styles of music. The Crabb Family also reached a vast concert audience. Their schedule lead them from the Grand Ole Opry to a Contemporary Christian Festival in South Dakota and everything in between the two venues.
In August 2006, the Crabb Family, Jason, Adam, Aaron, Terah and Kelly decided to follow individual paths. The siblings felt it was time to move to a new season in their lives. Each member plans to pursue their separate ministries. The Crabb Family has finished their tour to thank their fans for their unwavering support over the past ten years. Their last tour date as a group was August 1, 2007.
After that, Jason Crabb has started his own solo career. His brother Aaron started a duo with his wife Amanda called simply Aaron & Amanda Crabb, while Adam and Terah started a band called Crabb Revival. In 2009, Terah decided to leave the band to become a full-time mother. Kelly Bowling has also joined her family in a musical career.
Websites:
External links are provided for reference purposes. Christian Music Archive is not responsible for the content of external internet sites.