No albums list this artist in credits. You are able to edit albums and add credit info if you have created an account.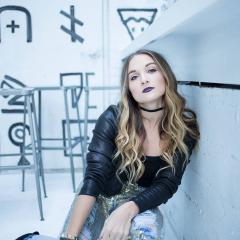 Carmen Justice
Carmen Justice Hadley (born Carmen B Justice) known professionally as Carmen Justice is a Christian pop/alternative recording artist and songwriter. She was first known as a member of Christian contemporary, power pop/pop-rock band 1 Girl Nation (also known as 1GN) before leaving the group and launching a solo career in 2017.
In 2012, Justice joined 1 Girl Nation along with other band members Lauryn Taylor Bach, Lindsey Adamec, Kayli Robinson, and Kelsey Grimm. In June 2013, the band was signed to Reunion Records, and released their self-titled debut album on August 20, 2013. In January 2017, it was announced that the band had split.
In 2017, it was announced that Justice would release her first solo single "Flaming Arrows" on January 20, 2017. Justice wrote and recorded the song "Flaming Arrows" days after 1 Girl Nation split. The song was written with Keithon Stribling and Jordan Stribling and was mixed/mastered by Jake Hartsfield. On January 6, 2017 CCM Magazine exclusively announced Justice was leaving 1 Girl Nation and pursuing a solo career. In an interview with New Release Today, Justice said that she is planning to release her debut EP in the fall of 2017. On February 24, 2017, Justice released a remix of "Flaming Arrows" produced by David Thulin.
On June 2, 2017 Carmen released her second single titled "Red & Yellow Black & White" (featuring GabeReal). The song featured a guest performance by GabeReal from TobyMac's Diverse City Band and was produced by David Thulin.
Wikipedia contributors. (2019, June 18). Carmen Justice. In Wikipedia, The Free Encyclopedia. Retrieved 18:05, October 5, 2019, from https://en.wikipedia.org/w/index.php?title=Carmen_Justice&oldid=902322537
Websites:
External links are provided for reference purposes. Christian Music Archive is not responsible for the content of external internet sites.