No albums list this artist in credits. You are able to edit albums and add credit info if you have created an account.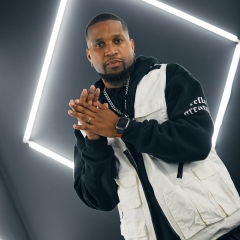 Canon
Aaron McCain, better known by his stage name Canon, is an American Christian rapper from Chicago, Illinois. Canon is best known for his appearance on Lecrae's Rehab: The Overdose and his collaboration with Derek Minor, then from Reach Records. Canon also was mentored by Lecrae, who then took Canon on the road with him to be his full-time hype-man. After touring with Lecrae, Canon signed with Reflection Music Group and recorded his first EP, Loose Canon, released in 2012. In 2014, Canon experienced his first taste of success by reaching the Billboard 200 charts with the release of Loose Canon, Volume 2. Unfortunately, after a near-death accident, Canon was out for a long time, until 2016 when he released several singles and the third volume of his Loose Canon series.
Aaron was born in Chicago, Illinois, but raised in Atlanta, Georgia. At the age of 13, McCain found himself in the middle of a terrible automobile accident. Walking away from the accident unharmed let McCain realize how sensitive life really was. From this, he began to seek God, and by the time he was in high school, he began rapping for God. After high school, McCain attended Bible College at Memphis, where he met Derek Minor and Lecrae, who helped guide him into starting his music career.
Wikipedia contributors. (2022, April 21). Canon (rapper). In Wikipedia, The Free Encyclopedia. Retrieved 16:31, August 13, 2022, from https://en.wikipedia.org/w/index.php?title=Canon_(rapper)&oldid=1083863710
Websites:
External links are provided for reference purposes. Christian Music Archive is not responsible for the content of external internet sites.