No albums list this artist in credits. You are able to edit albums and add credit info if you have created an account.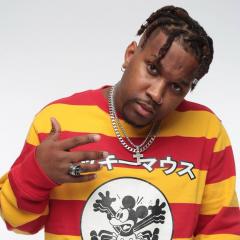 Canon
An alias representative of the greatest book in all of literature and reminiscent of rapid-fire weaponry carries lofty expectations and growing anticipation. Yet, this Midwest-born rapper's aim is not to leave people in awe of his knowledge and delivery but to offer words of life.
Aaron "Canon" McCain was born in Chicago, Illinois in a lower middle class area, but violence and crime would soon force his parents to journey throughout the state in hopes of finding a safe environment for their family. As an employee at Moody Bible Institute, Canon's mom introduced him and his siblings to God at a young age, and he found himself in his grandfather's church along with the rest of his family. While his heart hadn't been changed, his religious surroundings often kept him from turning to a life of crime common to those in his neighborhood. Nevertheless, Canon's penchant for mischief would eventually turn into rebellion against authority, skipping school and involvement in violent activity.
Yet, in between misbehaving in school and around the neighborhood, Canon grew more curious about God and interested in merging his growing faith with his desire to rap. Hoping to finally have the opportunity to bridge the two, Canon began attending a church called The House where Hip Hop shaped the culture and the service. Within a year, under the guidance of the lead pastor and several others, Canon had left behind his childish ways, was performing regularly and had an ever-growing desire to know more about the Lord.
After high school, Canon left Illinois and headed to Memphis to attend Bible college. Having previously met Lecrae at The House, when Canon moved South, he linked up with the Reach Records frontman, Derek Minor, Chad Jones and others in Tennessee. He eventually had to leave school, and although he was now surrounded by budding rappers, Canon's focus was still on maturing in the faith. But his mentors encouraged him to take all he'd experienced and learned and share it through music. Canon took their advice and in 2009 dropped "The Great Investment" mixtape, which went viral and garnered favorable reviews and caught the attention of listeners around the world. His mixtape was followed by a feature on Lecrae's Rehab: The Overdose, and he began touring the world with Lecrae before officially signing with Reflection Music Group in 2011.
Canon officially made his mark in the genre with the release of his free album Blind World featuring the popular tracks "10 Toes Deep," "Good to Go," and "Poppin Off" with Suzy Rock. He soon became a sought after performer by exciting audiences around the country with his acrobatics and rapid delivery. His first EP, Loose Canon, released the following year, built even more anticipation for his debut album as did his presence on RMG's collective album Welcome to the Family. Now, with Mad Haven, Canon's first full-length album—set to hit stores this October—he plans to offer a more personal look into what has shaped him as a person and artist. "A haven is a place of restoration, peace, covenant, security and where you might find your hope and joy. I'm going to tell you how I got to that place," he shares.
Now calling Atlanta home, Canon's desire is to contribute truth to culture while being true to who he is as an artist and a young person that is also influenced by culture. He hopes his music and his life inspires others to look to Christ but also encourage believers to "be you in light of a biblical worldview."
Websites:
External links are provided for reference purposes. Christian Music Archive is not responsible for the content of external internet sites.