No albums list this artist in credits. You are able to edit albums and add credit info if you have created an account.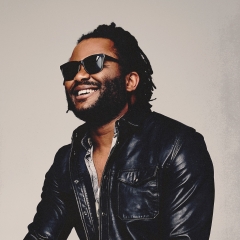 Blessing Offor
Born blind in his left eye due to congenital glaucoma, standout musician Blessing Offor of The Voice emigrated to the U.S. from Nigeria at the age of six. Offor's parents made the difficult decision to split up their tightly knit family to send their youngest child to America, where he could be properly medically treated and educated. Although Offer's parents miss him deeply (they haven't seen each other in nearly 20 years), their sacrifice secured a future that would not have been possible for him in Nigeria."
In another twist of fate, a young Offor was shot in the right eye with a water gun while playing in his backyard. The accident detached his retina and effectively robbed him of his remaining vision; he then found himself navigating a new world without sight during preadolescence. However, he soon found solace in singing and writing songs, taking voice lessons, and listening to the singers and songwriters that would later impact his style.
With a genuine love of people, a zeal for networking, and inexhaustible energy, Offor is still making his dreams come true. He has opened for such legendary acts as The Temptations, Tower of Power, Average White Man, and the winner of the first season of The Voice, Javier Cologne. With infectious joy, Offor consistently wins new fans — not just with his music but with his outgoing personality.
Blessing Offor. (n.d.) Retrieved: 28-Feb-22. From AAE Speakers. https://www.allamericanspeakers.com/celebritytalentbios/Blessing+Offor/392968
Websites:
External links are provided for reference purposes. Christian Music Archive is not responsible for the content of external internet sites.