No albums list this artist in credits. You are able to edit albums and add credit info if you have created an account.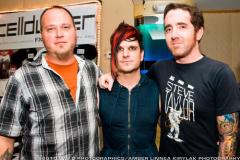 Argyle Park
Argyle Park was an underground industrial rock supergroup founded in New York City in 1994 and active until 1996. Members of the group reformed under the name AP2 in 1998, and were active under that name until winter 2000. Signed to Christian music labels, the band suffered repeated controversies within the Christian music scene for not being positive and evangelistic enough in its lyrics and outlook. The project was named after an actual park in Babylon, Long Island, where the members of Argyle Park grew up together.
Argyle Park first appeared on a tribute album to 80s Contemporary Christian Music iconoclast Steve Taylor in 1995. The full-length Argyle Park album, Misguided, was released later that year on R.E.X. Records. The album was musically varied, combining elements such as techno, metal guitar, ragtime piano, horns, samples, and dark vocals and was credited in the liner notes to three pseudonymous individuals: Dred, Deathwish, and Buka. Dred, Deathwish, and Celldweller, another individual credited as the album's producer, were all aliases for Scott Albert of the underground industrial metal band Circle of Dust. Buka has never been officially identified, though according to a Facebook post by Klank, his real name is Chris Martello. Jim Thirlwell claims that Buka was a producer at MTV Sports. Misguided also featured a myriad of guest appearances from the Christian alternative music scene, as well as several from cult-status mainstream industrial rock bands of the time. These appearances include Mark Salomon, Dirk Lemmenes, and Jeff Bellew of Stavesacre, Jim Thirlwell (Foetus), Klank, Jyro Xhan (Mortal), Tommy Victor (Prong), and Lauren Boquette and Marco Forcone (Drown).
In the summer of 1995, Argyle Park made their only live appearance at the Cornerstone Music Festival in Bushnell, Illinois. The musicians onstage included Dan Leveler, who would later became a full member of AP2 under the alias Level. Argyle Park made one more recorded appearance in 1996, this time with a song on a tribute album to Stryper. Then the band announced that they were shutting down. In a later interview, Scott Albert cited clashes with R.E.X. over lyrical content, unrealistic expectations within the Christian music industry, and negative or "holier-than-thou" fan reactions to lyrical content as reasons for shutting down both Argyle Park and his main music project, Circle of Dust. In a different interview, Buka also described much of the negative reactions Argyle Park faced from within the Christian music scene.
Websites:
External links are provided for reference purposes. Christian Music Archive is not responsible for the content of external internet sites.