April 04, 2012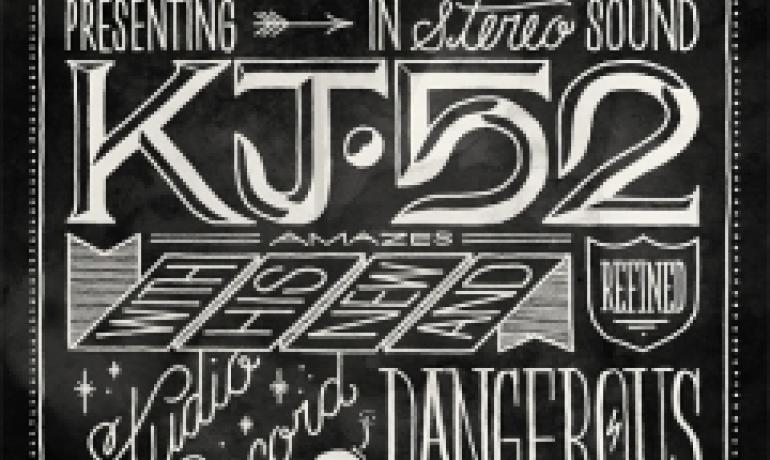 Seattle, Wa. –This week, BEC Recordings' KJ-52 released his seventh studio album, Dangerous, which debuted in the Top 10 on the iTunes® Christian & Gospel Album chart this week. The title track is climbing the radio charts -- at CHR the song is New and Active this week, and at Rock it has moved into the Top 25.
Dangerous comes after 11 years in the music industry and more than 575,000 albums sold for this hip-hop veteran. In addition to KJ overseeing the album, it includes tag teams with producers Tedd T. (Mute Math, Delirious) and Aaron Sprinkle (Deftones, Hawk Nelson, Jeremy Camp). Fans will recognize the special guest vocals, which include GRAMMY®-nominated Lecrae ("They Like Me") Canton Jones ("It's Going Down"), Dre Murray ("That Was My Life"), George Moss ("Do the Bill Cosby"), Thi'sl ("Shake 'Em Up") Rhema Soul ("Speed That Light") and Emily of Shine Bright Baby ("So Far Apart").
Here is what the media are saying about KJ-52's latest effort:
"KJ-52 can be unapologetically straightforward about faith. His latest has the high production value of something like Kanye West or the Black Eyed Peas, but the subject matter is youth-group ready."
- Christianity Today
"Dangerous is KJ's best album to date. He's created a great project for long-time fans and will definitely win some new converts."
- C. E'Jon Moore, The Christian Manifesto
"His seventh solo album, Dangerous brings with it every reason why he is still at the top of his game."
- ChristianMusicZine
"This release is filled with Christ-driven themes, fun-laced flavor, and sweet beats that are worthy to played at any house party."
- JesusFreakHideout.com
"Kj-52 is a pro at blending humor, hope, and depth into every album, while still keeping the energy of hip-hop alive and movin'. Just like the artist who created it, Dangerous is diverse and unlike any other in its genre. It's clear that even after eleven years of creating music, KJ-52 hasn't lost a beat."
- NewReleaseTuesday.com
KJ-52 is taking this new album on the road for the upcoming 4thirty1 Experience.