November 04, 2014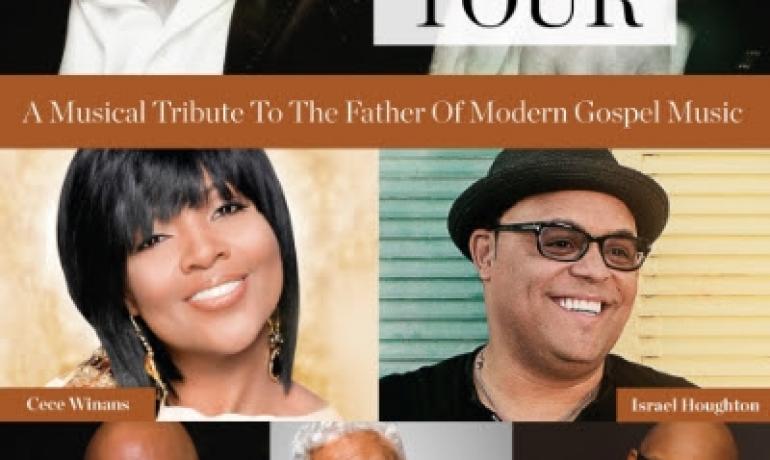 NASHVILLE, Tennessee -- Gospel music legend Andraé Crouch will be honored with the "Let the Church Say Amen" Celebration Tour in cities nationwide this holiday season. The tour will feature guest performances by some of Gospel's top artists, including CeCe Winans, Marvin Winans, Israel Houghton, Rance Allen and jazz artist Gerald Albright.
The "Let the Church Say Amen" Celebration Tour will hit multiple cities, with stops in Charlotte, Birmingham, Atlanta, Miami, Orlando, Philadelphia, Washington D.C., Richmond, Detroit, Indianapolis, Columbus, Milwaukee, Chicago, Cleveland and more to be announced. The complete schedule and on-sale dates will be announced in the coming days.
Produced by Riverphlo Entertainment (Mano Hanes), the "Let The Church Say Amen" Celebration Tour will pay homage to the living legend's career spanning over five decades. With 7 Grammy Awards, 6 GMA Dove Awards and an Academy Award nomination for "The Color Purple," Andraé is a member of the Gospel Music Hall of Fame and has a star on the Hollywood Walk of Fame.
As it relates to the tour, Pastor Andraé Crouch says, "Luther 'Mano' Hanes is a musical genius! I am so proud of him! He is a monster producer and a superb musician. I am blessed to call him my son and wholeheartedly endorse this exciting tour." 
Says Pastor Sandra Crouch, "With a visionary like Mano at the helm nothing but pure amazement will follow! He walks in a psalmist anointing that can't be denied. This is not just a concert, this is an experience! You won't leave the way you came." 
Andraé's songs have been recorded by everyone from Elvis Presley to Paul Simon, and he has worked as a producer and arranger with many of music's top artists, including Michael Jackson, Madonna, Quincy Jones, Diana Ross, Elton John and many others. Andraé can also be heard on Michael Jackson's hit singles "Man in the Mirror," "Keep the Faith," "Will You Be There" and "Earth Song."
For more information, visit www.letthechurchsayamentour.com
Source:
Nashville Publicity Group