Rance Allen is listed in the credits for the following albums: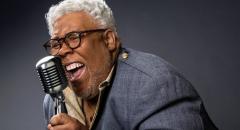 Rance Allen
Rance Allen was an American Bishop, Minister, and gospel musician, and the founder and leader of the famed Rance Allen Group. Known for his extremely wide vocal range and powerful singing voice, Allen became known as the main lead vocalist and the leader of the influential group.
He was the senior pastor of the New Bethel Church Of God In Christ in Toledo, Ohio, since its July 1985 establishment. In November 2011, Rance Allen was elevated to the office of Bishop in the Church of God in Christ, for the Michigan Northwestern Harvest Jurisdiction.
Allen was born in 1948 in Monroe, Michigan to Thomas and Emma Pearl Allen. He had 11 siblings: six sisters and five brothers. Allen founded the Rance Allen Group in Detroit in 1969 joined by his brothers Thomas and Steve.
Allen was married to Ellen Marie Allen (née Groves). The two were married on December 1, 1970. The couple had no children together.
Allen and his group had performed with many gospel musicians throughout the country, including Andrae Crouch, Marvin Winans, Bebe and Cece Winans, the Clark Sisters, Kirk Franklin, Marvin Sapp, Tye Tribbett, Shirley Caesar, Donnie McClurkin, Bernard Jackson Jr., and Mary McLaurine Glover. He also performed for President Barack Obama at a White House Celebration of Gospel Music and was nominated for five Grammy Awards.
Allen died on October 31, 2020 from complications due to a recent medical procedure. He was 71 years old.
Wikipedia contributors. (2020, November 2). The Rance Allen Group. In Wikipedia, The Free Encyclopedia. Retrieved 15:14, November 2, 2020, from https://en.wikipedia.org/w/index.php?title=The_Rance_Allen_Group&oldid=986709741