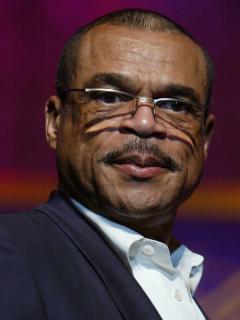 Walter Hawkins
Walter Lee Hawkins was an American gospel music singer and pastor. He was consecrated to the bishopric in 2000.
The 7th of 8 children born to the late Dan Lee and Mamie Vivian Hawkins, Walter Lee Hawkins was born on May 18, 1949, in Oakland, California. Hawkins was the brother of Edwin Hawkins (d. 2018), Marava Ladale Hawkins (d. 1988), Carol Lee Hawkins (d. 2020), Feddie Joyce Hawkins, Jervis Ersell Hawkins (d. 1952), Daniel Lee Hawkins (Marcia), and Lynette Gail Hawkins-Stephens (Reginald). Bishop Hawkins was married to Tramaine Hawkins from 1971 until their divorce in 1994. They had two children, a son Walter Lee "Jamie" Hawkins, Jr., who is married to Myiia "Sunny" Davis-Hawkins, and a daughter Trystan Lynette Hawkins. Bishop Hawkins also had a granddaughter, Jahve Neru Deana Hawkins, and a grandson, Jamie Daniel Hawkins.
Bishop Hawkins started his career in one of his brother's chorales, the Northern California State Youth Choir of the Church of God in Christ. The choir recorded an album in 1968 as a local fundraiser. When a song from that album, "Oh Happy Day", became a crossover hit, Buddah Records purchased the master and released it as "the Edwin Hawkins Singers". This led to him accompanying his brother Edwin to establish the Edwin Hawkins Singers.
Walter Hawkins left the Edwin Hawkins Singers in the early 1970s to establish the Love Center Church in Oakland, California. He and his Love Center Choir had considerable success with their Love Alive series of recordings, which sold well over a million copies from the 1970s through the 1990s. Love Alive IV, released in 1990, was No. 1 on the Billboard Gospel Album charts, where it stayed for 33 weeks. In all, Walter Hawkins produced and/or collaborated on 116 hit songs which were listed on the Billboard Gospel Music charts.
Walter Hawkins and his groups were frequent musical collaborators and recorded with Van Morrison, Diahann Carroll, Sylvester, and Jeffrey Osborne, among many others.
On July 11, 2010, Walter Hawkins died of pancreatic cancer at the age of 61 in his house in Ripon, California.
Wikipedia contributors. (2021, February 10). Walter Hawkins. In Wikipedia, The Free Encyclopedia. Retrieved 18:14, June 23, 2021, from https://en.wikipedia.org/w/index.php?title=Walter_Hawkins&oldid=1006032835