No albums list this artist in credits. You are able to edit albums and add credit info if you have created an account.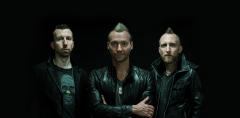 Thousand Foot Krutch
Thousand Foot Krutch is a Canadian Christian rock band formed in 1997. They have released five major studio albums and sold over a half a million albums as of 2010. Trevor McNevan began the band in Peterborough, Ontario, a city northeast of Toronto, where he went to high school. Joel Bruyere, born in Brantford, Ontario, was McNevan's childhood friend who had moved away but remained in contact with him. Drummer Steve Augustine is from Hamilton, Ontario. Trevor's first band was Oddball, which featured Dave Smith on guitar, Tim Baxter on bass and Trevor's good friend, Three Days Grace's Neil Sanderson, on drums. Oddball recorded only one album, Shutterbug, which was released in 1995. McNevan is the founding member of TFK (along with original guitarist Dave Smith), formed in 1997 in Peterborough, Ontario. McNevan came up with TFK's name "symbolizing the point in our lives that we realize we can't make it on our own strength".
In 2000, TFK released Set It Off as an independent record and quickly piqued the interest of record labels with sales of 85,000 units thorugh extensive touring and self promotion . The band signed with Tooth & Nail Records in 2003 and released Phenomenon. Their third album, The Art of Breaking hit shelves in 2005 and hearlded a less metal sound. 2007's The Flame in All of Us featured another sonic change with the band embrassing a more mainstream rock sound. 2009's Welcome to the Masquerade peaked at #35 on the Billboard 200 charts.
Thousand Foot Krutch has received seven Gospel Music Association Canada Covenant Wards, two nominees for GMA Dove Awards, and four Juno Award nominations.
Singer Trevor McNevan and drummer Steve Augustine are also members of their own side project band called FM Static and Joel Bruyere started his own solo project called The Drawing Room in 2009.
Websites:
External links are provided for reference purposes. Christian Music Archive is not responsible for the content of external internet sites.