No albums list this artist in credits. You are able to edit albums and add credit info if you have created an account.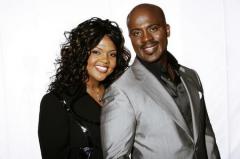 BeBe and CeCe Winans
BeBe & CeCe Winans is an American Gospel music brother and sister duo. BeBe (Benjamin) and CeCe (Priscilla) Winans are the seventh and eighth of "Mom" and "Pop" Winans' ten children, most of whom have had successful Gospel music careers.
While BeBe and CeCe were in high school, four of their elder brothers formed the successful Gospel music group The Winans. Initially known as The Winans Part II, BeBe and CeCe first appeared in the public eye when they debuted in 1982 as part of the singing group The PTL Singers on the long running popular Christian television show Praise The Lord. They were introduced by Jim Bakker by their childhood nicknames and recorded their first album Lord Lift Us Up as a duo for PTL Records.
BeBe and CeCe left the PTL Singers in 1987 to pursue a musical career and that same year, Sparrow Records offered the two siblings a Gospel recording contract. Their mainstream debut release was the self-titled album BeBe & CeCe Winans. It was produced by Keith Thomas, who had at that time also produced Amy Grant and Vanessa L. Williams. The debut record gave them their first R&B hit, "I.O.U. Me," which topped R&B and inspirational charts and generated Grammy nominations, and Dove and Stellar Awards. CeCe also earned a Grammy for "Best Soul Gospel Performance, Female" for the song "For Always."
They were one of the first African American artists to receive significant airplay on CCM radio stations and the second African American artists to receive the Dove Award in the Group of the Year category.
As a duo, BeBe and CeCe Winans' accolades include 5 Grammy Awards, 8 Dove Awards, 2 NAACP Image awards, 2 Soul Train Music Awards, and over a dozen Stellar Awards, 12 charting R&B singles, as well as numerous #1 singles on Christian radio, 3 Gold albums and 1 Platinum album.
In 1995, they officially parted ways to work on their solo careers and other areas of interest. Both artists have gone on to have successful solo careers, receiving numerous awards and accolades. To date, BeBe has released six solo albums, while CeCe has released eight.
Wikipedia contributors. BeBe & CeCe Winans. Wikipedia, The Free Encyclopedia. October 21, 2010, 10:57 UTC. Available at: http://en.wikipedia.org/w/index.php?title=BeBe_%26_CeCe_Winans&oldid=392006949. Accessed October 29, 2010.
Websites:
External links are provided for reference purposes. Christian Music Archive is not responsible for the content of external internet sites.