No albums list this artist in credits. You are able to edit albums and add credit info if you have created an account.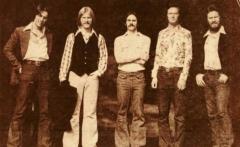 Selah
Emerging from the tumultuous social changes of the '60s, a new genre of musical/spiritual expression known as Jesus Music came into its own during the early 70s. The impact that the Jesus Music revolution had on Christian music reverberates into the new millennium. In 1973 a handful of musicians at Ohio's Cedarville University caught the Jesus Music passion and formed a band called Selah. What began as a short-term summer ministry in 1974 became a five-year touring, recording, and ministry adventure sharing Christ in venues ranging from coffee houses to churches to massive outdoor Jesus festivals.
From 1974 to 1975 Selah released two albums with Zondervan. During the band's last three years of ministry, several recording sessions produced songs from the band's repertoire that were never released to the public. In 1979 the group members amiably moved on to their own individual lives, and the long-anticipated but unfinished "third album" drifted into the past. 
Websites:
External links are provided for reference purposes. Christian Music Archive is not responsible for the content of external internet sites.