Ron Tutt is listed in the credits for the following albums: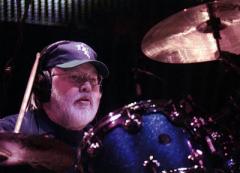 Ron Tutt
Ron Tutt spent 10 years playing for Elvis Presley. In fact, he still plays with the King as part of the "virtual Elvis" tour along with his former bandmates and audio/visual representations of Mr. Presley.
Ron either performed and/or recorded with them all -- from country greats Glen Campbell, Johnny Cash and Kenny Rogers to rock-n-rollers Los Lobos, Elvis Costello and Jerry Garcia to pop stars Billy Joel, Stevie Nicks and Michael McDonald, among many others.
A native-born Texan, there was never a question that entertaining was Ron's calling. From the early age of three, Ron was enrolled in both voice and tap dance classes. By the third grade he was playing violin with the school orchestra, and at ten won first prize in a Dallas ukelele contest. At 11 he danced on the first program broadcast live on television in Dallas. It wasn't until the summer of his senior year in high school that Ron gave up the trumpet and began playing drums -- not surprisingly he excelled and it became his passion.
On working with such legendary singers, Ron comments, "If I had to narrow it down, the two greatest music influences on my life would be Elvis Presley and Neil Diamond. Elvis for the flashy, explosive, slightly out of control, style of playing that he brought out in me that mirrored his performance and personality. Neil has influenced me to be a disciplined team player. He leaves little to chance. He makes sure we are all well-rehearsed and fundamentally prepared. We know we are going to win every time we go on stage - just like a great sports team, and that's a great feeling!"
Ron Tutt. (n.d.). Retrieved February 26, 2012, from Drummerworld website: http://www.drummerworld.com/drummers/Ron_Tutt.html