No albums list this artist in credits. You are able to edit albums and add credit info if you have created an account.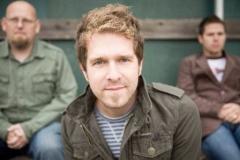 Robbie Seay Band
Robbie Seay Band (aka RSB) is a rock/worship band located in Houston, Texas. The band leads worship at Ecclesia, a church in the Neartown area of Houston where Robbie's brother, Chris Seay, is the teaching pastor. Many of the songs on RSB's albums are inspired by events and people within Ecclesia.
In 1997, lead singer Robbie Seay formed a band with three others at the time— Seth Woods (bass), and Dan Hamilton (drums)—as "Robbie Seay Band", named after him. The unsigned band released their self-titled debut EP in 1997, followed by a full-length release, Thoughts of You, in 1999. They released four more independent albums, 10,000 Charms (2001), December EP (2002), Live (2003) and Better Days (2004).
The band was signed to Sparrow Records in 2005 and retooled their last indie album, Better Days, for re-release on their new label. Their second album, Give Yourself Away, was released on August 28, 2007. The track "Song of Hope (Heaven Come Down)" from the album has received substantial attention on Christian radio, and charted at #7 on Billboard magazine's Hot Christian Songs chart.
Robbie Seay Band. (2011, August 25). In Wikipedia, The Free Encyclopedia. Retrieved 15:52, October 2, 2011, from http://en.wikipedia.org/w/index.php?title=Robbie_Seay_Band&oldid=446589468
Websites:
External links are provided for reference purposes. Christian Music Archive is not responsible for the content of external internet sites.