No albums list this artist in credits. You are able to edit albums and add credit info if you have created an account.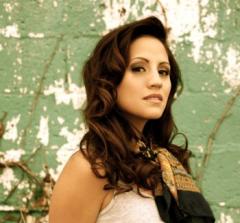 Rachael Lampa
Rachael Maureen Lampa  is a Dove award winning American Christian singer-songwriter, record producer, and occasional actress. She rose to fame in 2000 with her debut album Live For You, winning a Dove Award as well as achieving four number one singles including "Blessed, "Shaken", "God Loves You", and "Live for You". She was also named the #1 Young New Female Artist by CCM Magazine and made appearances on The Tonight Show and The View.
Early life
Lampa was born in Ann Arbor, Michigan; Her father is Filipino and her mother is Hungarian & Irish; she is the second of four children, with an older brother, Ryan, who is her road manager. She has a younger sister, Colleen, and a younger brother, Nate. She has been singing since she was a toddler and learned to sing perfect harmony by the time she was 4.
Lampa has performed on The Jenny Jones Show Young Talent Search at age 12 and finished 2nd place at the World Championship of Entertainment. She has also performed many times at the Colorado Rockies baseball games. In August, 1999, she performed live on EWTN's "Life on the Rock on the Road" in Sioux Falls, South Dakota.
Lampa was discovered while attending but not competing in the Music in the Rockies music conference in Colorado at 14 by Word Records producer Brent Bourgeois. She asked to sing at a cafe at the conference when the original performer did not make it. She then began recording soon after talks with the label and visits to Nashville.
2000-2003
Lampa released her debut album Live For You in August 2000. The album became a huge hit spawning four number one singles and winning a Dove Award for the number one hit "Blessed". She received many comparisons to fellow teenage Christian pop artist Stacie Orrico, who debuted the same year. She made several appearances to promote the album including an appearance on The Tonight Show performing "Live For You". She has also toured with Stacie Orrico, as well as artists such as Nickel Creek, and Amy Grant. She has also been a part of many tours such as the Shoutfest tour, as well as Summer Jam tours. Her song "If You Believe" was part of the soundtrack to "A Walk to Remember", which was released in early 2002. In March 2002, she released her second album, Kaleidoscope. It also got positive reviews. Three of singles released made it to the top five on the charts. The first single, "No Greater Love", made it to number two on the CCM charts. "I'm All Yours" made it to the top five on the CCM Charts. The fourth single was "Brand New Life". In October 2002 she released a remix album Blur, featuring remixes of her hit songs, as well as personal favorites. In 2003, she toured on the Compassion International tour.
2004-2005
In July 2004, Lampa released her third studio album, Rachael Lampa. The album received great praise among the critics for its diverse styles, which included contemporary, retro, acoustic, soul, R&B, and even ska. It was also the first time that Lampa had written or co-written on every track. She even served as executive producer for the album. Guest artists on the album included Robert Randolph, and Christian rapper T-Bone. Three singles were released from the album. "When I Fall" was the album's first single, reaching number seven on the Christian music charts. The other two, "Outrageous" and "No Other One", both received poor airplay. For promotion, she toured with Newsong on the Summer Jam 2004, and Winter Jam 2005 tours. She also appeared on the Joy to the World Christmas tour, alongside Martha Munizzi, and Bryan Duncan in 2005. In late 2005, she left her first label, Word Records. Lampa is currently unsigned. In October 2005, she appeared on the album The Message, where she wrote and sang the song "Flag (Psalm 57 and 108)". The song was released as the compilations first single.
2006-2010
In May 2006, Word Records released a greatest hits collection, titled, Blessed: The Best of Rachael Lampa. It features a seventeen song collection of her best and favorite songs, from her four albums as well as a track that made it on various compilations, but is not featured on her actual albums. Lampa is still touring selected dates. In 2006 she appeared on the Newsong Christmas Hope tour, alongside Todd Agnew, and Nate Sallie. Lampa also appeared on the Falling Up remix album Exit Lights, where she sang on the track Exhibition (Epoison).
On October 6, 2006, "Hidden Secrets," a film touted as the Christian version of The Big Chill (film) debuted with Rachel Lampa starring as "Sally." Her co-stars included John Schneider (television actor) of The Dukes of Hazzard fame. Lampa performed four songs for the movie: "When I Fall," "The Good Life," "No Other One," and "The Art."
On June 5, 2007, Lampa revealed in a blog that she was writing and recording new songs for a new album. She also revealed on her blog that she was looking for a new label. In early summer 2007, Lampa posted three new demo songs on her Myspace. Tracks included "Look Up", "Does It Have to Be Tonight", "Summertime", and "Lovin You". Recently, Lampa appeared in Christian rapper T-Bone's video for the song "Name Droppin" the first single of his album Bone-Appetit! . Rachael appeared and performed "When I Fall" and "Blessed" at the 2008 Republican National Convention in St. Paul, Minnesota on September 2, 2008.
In December 2009, Lampa released a Christmas EP exclusively to her website. Lampa released her first extended play Human independently on January 5, 2010. She is currently recording a new album.
2011
In 2011 she and Tyler Ward produced a Cover of Rocketeer by Far East Movement.
Websites:
External links are provided for reference purposes. Christian Music Archive is not responsible for the content of external internet sites.