P.I.D. is listed in the credits for the following albums: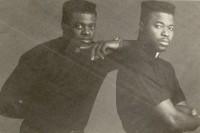 P.I.D.
P.I.D. or Preachas in Disguise is a rap duo of Barry Hogan and Fred Lynch. The group debuted in 1989 making them one of the earliest Christian rap artists. Soon Fred's brother joined the group and the trio went on to record three more critically acclaimed albums. In 1993, Barry Hogan departed the group and the group name was changed to Preachas. Under this name they released their final album on Myx Records, Violent Playgrounds. 
Where are they Now:
Fred Lynch serves as the Lead Pastor at Tha Myx Dallas in Texas.
Verified Sept 2020