No albums list this artist in credits. You are able to edit albums and add credit info if you have created an account.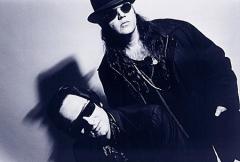 Passafist
The break-up of the popular Nashville band Chagall Guevara sent the group's very talented players scrambling for new projects. Vocalist Steve Taylor went back to the world of Christian rock and, later, as founder of Squint Records (where he discovered Sixpence None the Richer), to the executive suites. Guitarists Lynn Nichols and Dave Perkins forged careers as extraordinary sidemen and producers, working, most notably, with Taylor, Phil Keaggy, the Newsboys and Jerry Jeff Walker. Somewhere along the line, however, Perkins and Nichols (christening themselves Waco and Reno Caruso) found time to record this one-time collaboration with John Elliott of Dessau, and Michael Saleem and Mustafa Abdul-Aleem of Afrikan Dreamland.
Although the band name itself is a play on words (pacifist, pass-a-fist -- get it?), the music on this self-titled album is a muscular blending of the various members' musical leanings. The "Caruso" twins (Perkins and Nichols) contribute guitar-driven, Rolling Stones-styled rock, Elliott brings Dessau's industrial edge to the party, and Saleem and Abdul-Aleem add strong, almost tribal rhythms to the tracks. The music gels quite nicely despite the disparate influences of the collaborators, an aggressive mix of riffs and rhythm. The songs on Passafist are brimming with Perkins' acerbic sense of humor and satirical wit.
"Emmanuel Chant" is a hypnotic dirge with chaotic instrumentation, muted vocals, and sensual lyrics that reach a crescendo of religious frenzy. The revenge tale "Glock" is a powerful industrial-rocker with growling vocals, monster percussion, and fret work that sizzles with electricity. "Christ of the Nuclear Age" also offers an industrial vibe, although with more of an alternative rock edge, Nichols' and Perkins' guitars battling throughout the mix and alongside the vocals. The screaming guitars and funky undercurrent of "Appliance Alliance" evoke the spirit of Jimi Hendrix, while a cover of the Rolling Stones classic "Street Fighting Man" is beefed up with six-string steroids and an anarchic spirit. The epic, satirical "The Dr. Is In," subtitled "How I Learned to Worry and Start Missing the Cold War," takes its cue from the movie Dr. Strangelove. Starting with sampled vocals from the film, the song begins as a jazzy hybrid of instrumental virtuosity and Tom Waits-styled vocals before launching into a crucifixion of noise. A steady, rapid-fire heartbeat provides a soundtrack beneath scorched-earth guitars, industrial-strength vox, and samples from various news broadcasts. "The Dr. Is In" closes the album smoothly, reverting to its opening calm before a final nuclear blast drives the song's not-so-subtle point home.
Although created as an interesting side project for those involved, Passafist might have been a good 15 years or so ahead of its time. The band's lyrical humor, loudly buzzing guitars, and strong rhythmic punctuation could easily have found a warm reception from the early-2000s nu-metal crowd. Instead, Passafist, the album, is a much sought-after collector's item, a timeless relic of another era.
Gordon, K. A. (n.d.). Passafist: Passafist. Retrieved July 23, 2013, from AllMusic website: http://www.allmusic.com/album/passafist-mw0000124425