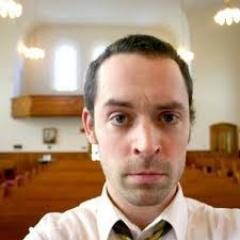 Jesse Sprinkle
At 13, Jesse and his brother Aaron Sprinkle formed the Christian alternative rock group Poor Old Lu, for which Jesse contributed drums, percussion and vocals. Between 1990 and 2002, they released 8 albums and toured nationally. Poor Old Lu amicably disbanded in 2002.
His first solo effort was an instrumental mail-order-only CD called Sunsites based around Jesse's acoustic guitar and cello by friend Phil Peterson. Jesse and Phil recorded under several different names around this time, including:
Clive Staples (Persuading You Near)
The Color Nature (Scenes)
Dinner Mint (A Tribute to Stryper)
Jesse then took a more traditional band musical approach and recorded Roobrik under the moniker The World Inside.
Jesse continues to record his own music, while drumming for other bands.
Wikipedia contributors. (2018, December 7). Jesse Sprinkle. In Wikipedia, The Free Encyclopedia. Retrieved 00:10, December 19, 2018, from https://en.wikipedia.org/w/index.php?title=Jesse_Sprinkle&oldid=872405230