No albums list this artist in credits. You are able to edit albums and add credit info if you have created an account.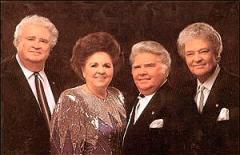 Happy Goodmans
The Happy Goodman Family was a Southern Gospel group founded in the 1940s by Howard "Happy" Goodman. The Happy Goodman Family began to be known for their singing around 1950. During the 1940s and 1950s there were various combinations of all eight brothers and sisters, with Howard being constant. Brother Sam pulled a stint in the Air Force while Brother Bobby was a truck driver and played for some rock and roll bands. Brother Rusty pulled a stint in service as well as singing with The Plainsmen Quartet afterwards. Howard married, and soon his wife Vestal joined the group as well. After all the sisters married, Howard and Vestal went into evangelistic work. Soon Sam joined them again followed by Rusty in 1962 and Bobby on bass guitar not long afterwards.
The fame of the Happy Goodmans grew considerably in the early-1960s. Appearances at the National Quartet Convention got them in front of promoters who in turn booked them across the country. In 1964, they were asked to become one of the flagship groups for a new Southern Gospel program called The Gospel Singing Jubilee along with The Florida Boys, Dixie Echoes, and The Couriers Quartet. This program soon became one of the most popular gospel music programs and would run for over twenty years. The Goodmans would soon become one of the most popular groups on the program, and would remain so for ten years till they left to start their own TV program the Happy Goodman Family Hour. The Goodmans also had a short lived program called "Down Home with The Happy Goodman Family". The weekly TV exposure allowed The Happy Goodman Family to take the nation by storm. They quickly became America's favorite singing family.
Their first full length recording was "I'm Too Near Home", initially released in 1963 and later re-released on Canaan/Word Records in 1965. In 1968, they were honored with a Grammy Award for their 1967 album "The Happy Gospel of the Happy Goodmans". Ten years later, they received another Grammy for "Refreshing".
The Goodmans had a list of hit songs a mile wide. Many of the songs they introduced to gospel music are now considered classics. Songs such as "I Wouldn't Take Nothing For My Journey Now", "Who Am I?", "God Walks The Dark Hills", "Had It Not Been", "What A Beautiful Day For The Lord To Come Again", and many others will forever be part of gospel music and synonymous with the Happy Goodman Family.
The Goodmans broke new ground in gospel music during the 1960s and 1970s by implementing a live band and creating their own unique sound. It was during these years that they developed their now classic "grab a note and hang on" endings. Sam's humorous emcee work, Howard's showmanship at the piano, Rusty's songwriting, and Vestal's hairdos,white handkerchiefs, and powerful singing voice all rose to a new prominence. Tenor Johnny Cook joined the group for a while in 1974 and Rusty's daughter Tanya was added in 1976.
Around 1980, creative differences about musical style caused a division in the family. The musical landscape of Christian music was expanding considerably at this time, and Howard and Vestal wanted to maintain their traditional sound. Rusty, Sam, and Tanya wanted to take the group in a more contemporary direction. Ultimately, Howard and Vestal decided to leave the group. making what would become one of their best albums. Rusty, Sam, and Tanya carried on with Johnny Cook returning at tenor. Michael English joined them a couple of years later singing lead. Michael left The Goodmans, a short time after joining, to sing with The Singing Americans.
Aside from a one time performance at the 1984 National Quartet Convention by Sam, Rusty, Howard and Vestal, the Happy Goodmans did not sing together from 1984 to 1990. In 1990, news that Rusty had been diagnosed with cancer prompted the family to record a project together called "The Reunion". Although they initially planned to tour in support of the project, Rusty's health deteriorated rapidly. He died in November 1990. Sam followed his brother in death the next year. "The Reunion" was regarded as their best album ever.
In 1996, Howard and Vestal were joined on vocals by former Happy Goodman band member Johnny Minick. As a trio, they brought back the Happy Goodman name to the delight of fans. Several projects were released over the next five years and they were regular fixtures at Gaither Homecoming events. Their last project was appropriately titled "The Final Stand (2001)". In 2002, a biographical video titled More Than The Music...Life Story chronicled the history of the Happy Goodmans. Vestal wrote her autobiography titled "Vestal! Lord I Wouldn't Take Nothin' for My Journey Now"(1999) and released a number of solo projects before her death in 2003, including two "Vestal and Friends" CDs featuring duets with a diverse array of vocalists, including George Jones, Sandi Patty, Dolly Parton, Andre` Crouch, Wynnona Judd, Bill and Gloria Gaither, Newsboys and the love of her life Howard Goodman.
The group recorded 15 number-one singles and played over 3,500 shows. They were inducted into the Gospel Music Hall of Fame in 1998.
The Goodmans popularity grew so much that a category had to be created in the Grammy Awards for Gospel Music. In 1968 The Goodmans won the first Grammy for a Gospel album by a Gospel group, no other artist or group had garnered this achievement. The Goodmans also won the same award in 1978. In 1969 with the founding of the Gospel Music Association and the Dove Awards the Goodmans were honored that year too. Vestal was the first Female Vocalist of the Year for the 1969 Dove Awards; she set a standard that few can reach for that category. The Goodmans were remembered year after year when it came time to nominate for awards.