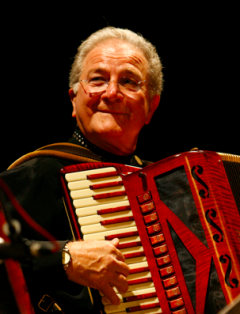 Frank Marocco
Frank Marocco was born in Joliet, Illinois USA 1/2/1931 - passed away in Los Angeles on 3/3/2012.
He studied classical Accordion for 9 years in The Chicago area. Frank Marocco also studied clarinet, Piano, Harmony & Theory
Began his professional career playing in clubs and hotels all over America with a Trio he organized at age 18. Jazz was his first Love but the opportunity to make a living playing Jazz was not easy and he eventually made his way west to Los Angeles where he worked as a session studio Musician becoming one of the most recorded Accordionists in the world playing on hundreds of Movie soundtracks, TV shows and record dates. He has recorded film music with a long list of composers. Frank Marocco has also played with some of the best Jazz Musicians in America and Europe.
Websites:
External links are provided for reference purposes. Christian Music Archive is not responsible for the content of external internet sites.