No albums list this artist in credits. You are able to edit albums and add credit info if you have created an account.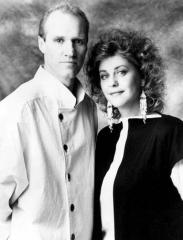 Farrell & Farrell
Bob and Jayne Farrell met during high school in Lubbock, TX in 1967, and sang together from the very first. Bob had a popular band that played in West Texas for fraternity parties and proms - Jayne would sing Grace Slick, Janis Joplin, and Aretha Franklin favorites - Bob would cover the songs of The Beatles, Steppenwolf, and many other late 60's pop bands.
For a brief period after high school Jayne was an airline stewardess for American Airlines based in Boston - Bob began college at Texas Tech University - both continued to perform.
The two were married in 1969 and moved to Houston, Bob attended and graduating from Univ. of Houston. During this time (1971) both became Christians and Bob began to write songs about his new faith walk with Christ.
It was during the 'Jesus Movement' of the early 70's that the seeds of what would become Farrell & Farrell were sown. The pair traveled and sang all over the U.S. as both solo artists and with their bands (One Man Band, Millennium and Dove). They began recording albums which included, 'Millennium', two solo albums by Jayne and an album with 'Dove II') ...other artists began recording Bob's songs as well.
In 1977 the duo released the Farrell & Farrell album...their first single "Earthmaker" went to #1 on Christian radio. F&F continued to travel internationally until 1991, releasing eight albums which spawned many #1 songs - such as "People in a Box" and "Boundless Love". Their music has always enjoyed a very broad-demographic appeal - and it is a known fact that F&F introduced 'techno' into the Christian music genre with their ground-breaking 1983 album, Choices.
Since '91 Bob has been writing songs for a long list of pop, Christian, and country artists, as well as penning songs for national ads, film, and tv.
Farrell and Farrell: then & now. (n.d.). Retrieved March 8, 2016, from CCM Classics website: http://www.ccmclassic.com/artists/farrell-and-farrell.html
Where are they Now:
Currently Bob continues to write music and does some touring as the show director of his compositions: Saviour, A Modern Oratorio; and HERO, The Rock Opera. He is currently writing book manuscripts, and is about to launch a My Manifesto blog while self-publishing his books on Amazon.
Bob and Jayne have lived in Nashville since 1983 - they have two daughters and four grandsons.
Websites:
External links are provided for reference purposes. Christian Music Archive is not responsible for the content of external internet sites.