No albums list this artist in credits. You are able to edit albums and add credit info if you have created an account.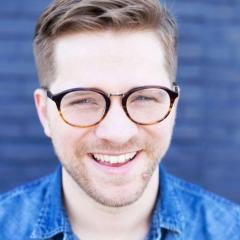 Elias Dummer
Elias Elton Dummer is a Canadian musician, songwriter, and writer now based in Tennessee. He was the principal songwriter, founding member, lead singer, and pianist in the contemporary Christian band The City Harmonic, from 2009 until 2017, and released his first solo music in over a decade in 2019.
Dummer started The City Harmonic with guitarist Aaron Powell, bassist Eric Fusilier, and drummer Joshua Vanderlaan in 2009 after they served together as the house worship band for an inter-denominational event for students focused on "worship and mission" called CrossCulture. The band was then commissioned by the TrueCity movement of churches in Hamilton, Ontario. The band released an EP, Introducing the City Harmonic in 2010.
Dummer's hit song "Manifesto" became the walkup song for baseball player Seth Smith, and served as the theme song for 2011's National Day of Prayer, in addition to being performed live at Passion 2013 by Charlie Hall.
In 2015, Dummer co-produced "We Are The City Harmonic", a documentary about the social impact of churches working together in Hamilton, with Jesse Hunt and Eric Fusilier.
The City Harmonic disbanded in 2017. Dummer and his family moved to Tennessee; after first releasing a series of singles to streaming platforms beginning in November 2018, Dummer released his debut album as solo artist, The Work Vol. 1, on February 8, 2019; his debut single "Enough" received sufficient radio play to appear for 26 weeks on the Billboard charts.
Wikipedia contributors. (2020, July 19). Elias Dummer. In Wikipedia, The Free Encyclopedia. Retrieved 18:25, August 24, 2020, from https://en.wikipedia.org/w/index.php?title=Elias_Dummer&oldid=968530223
Websites:
External links are provided for reference purposes. Christian Music Archive is not responsible for the content of external internet sites.