E-Rock is listed in the credits for the following albums: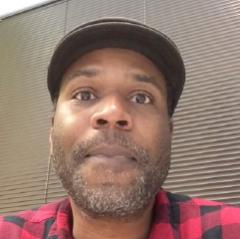 E-Rock
E-Rock, born Everett Fitzgerald, was a stage dancer for the likes of MC Hammer and Vanilla Ice. E-Roc turned to the Bible for spiritual inspiration that would eventually spark his career as a motivational speaker and Christian hip hop artist. The Vahalla, New York, native made his debut with Listen to the G.O.D. on Word Records in 1991.
Everett has produced and managed media products in every area, from ideation to distribution, in the general and CBA markets. As a former Vanilla Ice dancer and solo artist of 11 albums, one nominated for hip-hop album of the year in CBA, Everett is deeply rooted in entertainment.​
Everett has launched multiple media properties including graphic novels with Zondervan, comics with Alias Enterprises, music with Word, Atlantic, Warner Brothers, apps, and social media for pastor Miles McPherson, and more.
In addition to his extensive entertainment experience, Everett is writing his first book on being a father of a child with Autism, entitled How to Raise a Jedi.