Bob Somma is listed in the credits for the following albums: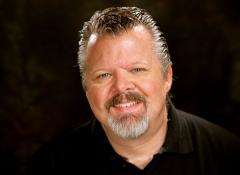 Bob Somma
Bob Somma's passion for music became evident at a very early age. Though guitar would always be his favorite, at the age of 10 he began to experiment with various instruments. Those years of experience help bring a depth of understanding and broad musical foundation that Bob brings to every project.
Growing up in the Southern California area he began his professional career performing at Knott's Berry Farm, Disneyland, Magic Mountain and many clubs in the L.A. area. While in his early twenties Bob got his first taste of studio work. That's all it took. He began to focus on becoming a "studio musician" and has assembled an impressive list of film, jingle, television and CD (album) credits.
Bob has been a professional musician for over 30 years. Though a seasoned L.A. studio veteran, he has spent the last 15 years writing, playing and producing music that represents his faith in Christ. After touring and recording with such artists as: Crystal Lewis, Fernando Ortega, Andre Crouch, Michael W. Smith, Debbie Boone, Phil Keaggy, Randy Stonehill and others, he began to turn his gifts toward the local church. As God began to focus him more in the area of Praise and Worship music, his growing passion was to equip and encourage local church musicians. Bob continues to write and produce music will still finding time to travel worldwide with Franklin Graham Ministries, the Billy Graham Evangelistic Association, and Samaritans Purse.
He also serves as the musical director for the Tommy Coomes band and has produced four of their CDs. he consults with several churches helping them develop their musicians and worship teams.
Bob is married to Paula and lives in Southern California.
Websites:
External links are provided for reference purposes. Christian Music Archive is not responsible for the content of external internet sites.