No albums list this artist in credits. You are able to edit albums and add credit info if you have created an account.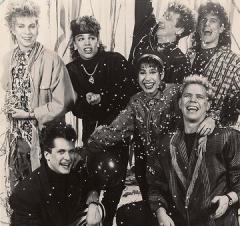 Bash 'N The Code
Bash-n-the-Code, later known as just Bash, was a musical derivative of the band Found Free, a 1970s mellow pop rock unit. The band was founded by Keith Lancaster in 1971, who was heavily involved with the group from its beginnings to its end. With sights set on the teen market, Bash-n-the-Code's albums featured dance-pop music, and their concerts were heavy on theatrics. Their first two albums feature husband-and-wife duo, Greg Sparks and Rebecca Sparks. John Fett and Jamie Kearney provided the lead vocals on More than Enough, while James Burks provided the lead vocals on the fourth and final album.
Bash-n-the-Code. (2012, April 1). In Wikipedia, The Free Encyclopedia. Retrieved 12:40, June 18, 2012, from http://en.wikipedia.org/w/index.php?title=Bash-n-the-Code&oldid=484949557
Instructions: To download the the file, CLICK the Download column below and "Save link as" to your computer.
Terms and Conditions for Our Free Radio Program
When you download Christian Music Archive Radio, we ask that you air the show in its entirety without any edits. That means playing the "for more information visit Christian Music Archive.com" tag. Our website provides the revenue necessary for us to provide this service to you free of charge.