No albums list this artist in credits. You are able to edit albums and add credit info if you have created an account.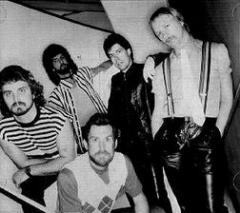 AD
In 1983, after his departure from the band Kansas, Kerry Livgren recorded his second self-produced album for CBS, Time Line with Dave Hope, Warren Ham, Michael Gleason and drummer Dennis Holt. By the end of the recording sessions, the session musicians had jelled, and he decided to name the group AD.
Due to legal entanglements caused by his contractual obligations with Kansas, Livgren was unable to market AD in the mainstream secular market. After negotiating with the record label, he received a waiver to perform with AD in the Christian rock market. Unfortunately, this would become a hindrance to commercial viability for the band. AD toured extensively between 1983 and 1986, sometimes playing bars and clubs one night and then churches the next. Livgren has stated on several occasions that he experienced some of the highest and lowest points in his career during his time with AD. Livgren mentions in his book Seeds of Change: The Spiritual Quest of Kerry Livgren that his time playing live with AD was his best as a guitarist.
AD released Art of the State in 1985. Due to financial difficulties, AD faded away in 1986 after releasing the album Reconstructions, though no official breakup was announced. In 1988, Livgren released a collection of previously unreleased AD songs titled Prime Mover. Livgren played all instruments, and all vocals were performed by Ham.
In 1997, Livgren rediscovered recordings of two AD performances from 1984 and 1985 that had been recorded by the soundboard engineer. Though they had not been made for release, Livgren remastered them and released them as a "thank you" to fans on a CD-R title called AD Live. The performances include mistakes and technical problems left intact and is meant as an archival release.
Kerry Livgren. (2011, August 13). In Wikipedia, The Free Encyclopedia. Retrieved 12:39, August 17, 2011, from http://en.wikipedia.org/wiki/Kerry_Livgren#AD.2C_1983-1988
Websites:
External links are provided for reference purposes. Christian Music Archive is not responsible for the content of external internet sites.