May 30, 2012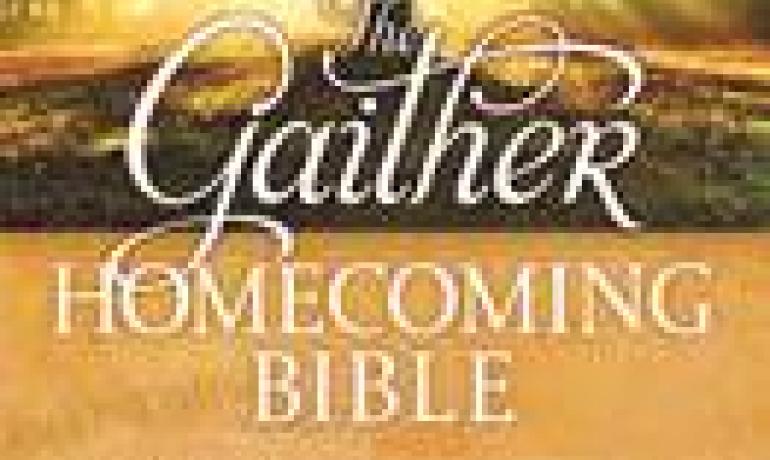 Nashville, Tenn — Two of the most beloved and influential artists in the Christian music industry, Bill and Gloria Gaither, have joined with leading Christian publisher, Thomas Nelson, Inc., for the release of The Gaither Homecoming Bible.
As general editors, the Gaithers drew from their years of Bible study, gospel songwriting and strong faith to create this legacy project that is sure to be treasured by believers and all who love to sing their faith for generations to come. With the trusted and beloved New King James text as their guide, the Gaithers worked closely with 60 friends and Homecoming artists to select the 75 hymns and gospel songs that will be interspersed throughout the text. These hymns and songs are given new life and meaning through articles and stories that fully describe their connection to Scripture. In total, 230 exclusive devotionals were penned by Homecoming artists along with 20 original poems by Gloria Gaither. A custom Gaither Homecoming Bible reading plan has also been crafted which will guide readers on a Homecoming journey through the scriptures.
"It is our hope that the stories and experiences we and the Homecoming family of singers, writers and musicians share will encourage and inspire others to find the Word of God to be a living, vital force in our real, walking-around lives," explain Bill and Gloria Gaither. "But most of all, we hope a developing love for the Scriptures will lead those who read it to the One who is the Way, the Truth and the Life." "We couldn't be happier or more excited to partner with Bill and Gloria for The Gaither Homecoming Bible," says Gary Davidson, Senior Vice-President and Bible Group Publisher, Thomas Nelson. "The impact their songs and Homecoming Events have made on people's lives aligns with what we hope our products provide – hope, truth and inspiration. We look forward to a long relationship with the Gaithers and pray this Bible blesses millions of people worldwide."
Bill and Gloria Gaither teamed with Thomas Nelson in order to create a Bible that intersects with the reader's everyday life. The notes and editorial aspects of The Gaither Homecoming Bible show how the Bible passages have changed their lives and the lives of Homecoming artists over the years. The Gaithers desire to lead the reader into a close, personal experience with the Scriptures and show how the messages are applicable to everyone's lifestyle. With overwhelming input from the Homecoming family, including Jeff & Sheri Easter, Mark Lowry, The Isaacs and The Hoppers, The Gaither Homecoming Bible is already having a powerful, spiritual impact on friends of the Homecoming team.
Anne Graham Lotz - Whenever I open the Bible, I feel that I've come "home." I pray that this Bible will encourage you to read, apply, obey, and live by what it says, so that you, too, can come home to a heavenly Father who loves you and wants to have a word with you.
The Statler Brothers - There is a special place in your home for The Gaither Homecoming Bible. Wherever you decide to place it, be sure it's somewhere accessible whenever you need to be inspired by the true Word of God.
Joe Bonsall/The Oak Ridge Boys - I am constantly amazed at the outreach of our dear friends Bill and Gloria Gaither. They are reaching people with the Gospel through every medium – music, television, video, books – and now this magnificent, simple-to-read and understand version of God's Holy Word.
Andy Andrews/New York Times Best-Selling Author - Few people in the world of music are as admired, respected, or accomplished as Bill and Gloria Gaither. Their love for the Scriptures and for the Lord is apparent in everything they do. The Gaither Homecoming Bible is a natural extension of their ministry and promises to be a life-long source of study and reflection for all who experience it.
For more information on The Gaither Homecoming Bible, including additional pricing, bindings, and a free download of the book of Psalms, please visit www.GaitherHomecomingBible.com.