March 01, 2012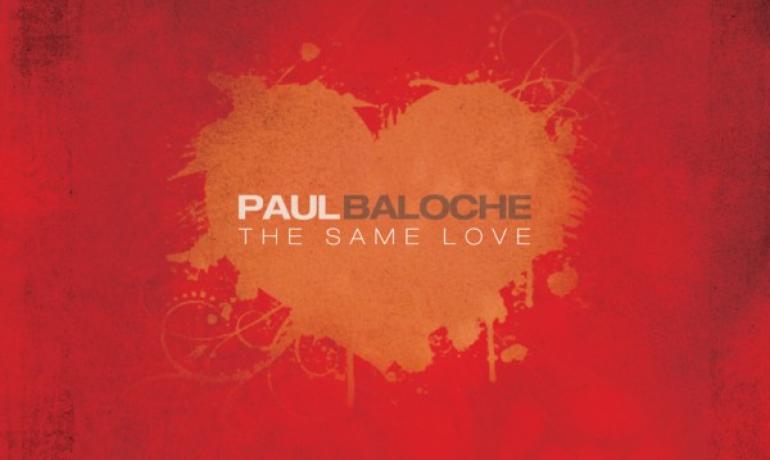 Celebrating 20 years of music and ministry, modern worship trailblazer Paul Baloche is one of today's most influential worship leaders, songwriters and mentors. The Same Love—Baloche's 12th recording with Integrity Music—releases March 13th. Co-produced with Ben Gowell and Michael Rossback, The Same Love forges a progressive path musically, while delivering 13 compelling tracks composed in community with accomplished songwriters Ben Fielding, Kari Jobe, Lincoln Brewster, Jason Ingram, Ed Kerr and All Sons & Daughters among others.
Best known for such modern classics as "Open the Eyes of My Heart," "Above All," "Hosanna," and "Your Name," Paul Baloche's songs have been recorded by numerous artists, including Michael W. Smith, Casting Crowns, Matt Redman and Philips, Craig & Dean. And this three-time Dove Award-winning writer's songs are sung by millions of worshipers around the world, with 21 of them included in the CCLI Top 500 list, indicating the songs most often used in North American churches.
But for this modern hymn writer, mentor and teacher who once aspired to be a priest, ministry is not a sprint, but a marathon, a long series of obedient steps in the same direction. After 25 years of marriage, 23 years leading worship at Community Christian Fellowship in Lindale, TX, a 20-year partnership with Integrity, a decade with the same band members and hundreds of teaching resources provided free for church leaders (via his web site leadworship.com), Paul Baloche remains focused on the adventurous calling upon his life.
"One of the reasons I love the process to this day is that it's a bit of a frontier, a mystery," Paul says of the creative process behind The Same Love. "You can't put your finger on it. Nobody can. It has a sense of adventure, a Lewis and Clark kind of thing. All explorers, over time, are trying to go places they've never been. Writing for worship is a lot like that. You're trying to go places you've never been, deeper into ancient biblical truths, stirring up your modern soul, if you will. You're testing the tension and the harmony of several things, combining that with what's going on musically at the moment... And you end up with all these different elements — harmony, chords, lyrics, melody, vibe — and out comes something new."
In addition to co-writing, joining Baloche on vocals for The Same Love are Kari Jobe, who sings on "Look Upon the Lord," One Sonic Society's Jason Ingram, who sings on "Reign in Me," All Sons & Daughters on "King of Heaven" and "Oh Our Lord" and Brothers McClurg on "Just Say." Kathryn Scott lends her vocals on "My Hope" and Hillsong's Ben Fielding joins Baloche on "We Are Saved," which was mixed by GRAMMY Award-winning engineer Chris Lord-Alge (U2/Switchfoot). Lord-Alge also mixes the title track, the touchstone for the entire album and first single from the project, co-written by Baloche and Michael Rossback.
"God is not this impersonal force," Paul says. "The truth is that from creation to the crucifixion, God has been calling us – by name. He's giving us a challenge, calling us to the cross, asking, 'Are you ready to give up your way of doing things? Come as you are, pick up your cross daily and I will transform your life.'"
The same love that set the captives free The same love that opened eyes to see Is calling us all by name
With themes of God's faithfulness and mercy through Christ's sacrifice on the Cross, The Same Love showcases Baloche's unbreakable connection to and passion for the Church. "From project to project, I try to wipe the slate clean," he says, "to consider what's happening right now in my church, in my own soul and in the church at large. And I ask, 'What do I sense in the heart of the next generation, how do they perceive God, the church, fellowship and community?'"
The Same Love also gives voice to the spoken and unspoken prayers of people in times of need. "Life is hard, people are looking for hope, and there's not much to be found outside of the hope we have in Christ," says Baloche. "My intent is for these songs to be honest prayers for the Church to sing, songs that give people a means of expression, songs that facilitate a conversation with God."
Continuing that conversation, Baloche's touring/workshop/teaching schedule takes him around the world. In the coming months, he will host Leadworship Workshops throughout the U.S., followed by a two week Canadian tour with worship artist Phil Wickham and conferences in the Netherlands, Singapore and UK.
In addition to writing, recording, touring and serving as a worship pastor, Baloche has created a variety of teaching DVDs, along with many free resources designed specifically for worship leaders and musicians. He has also written a book, God Songs –How to Write and Select Songs for Worship. He is a contributing writer for both Worship Leader and Worship Musician magazines and is a featured blogger on ChurchLeaders.com. For more information on Paul Baloche, go to www.leadworship.com and www.integritymusic.com.