February 08, 2013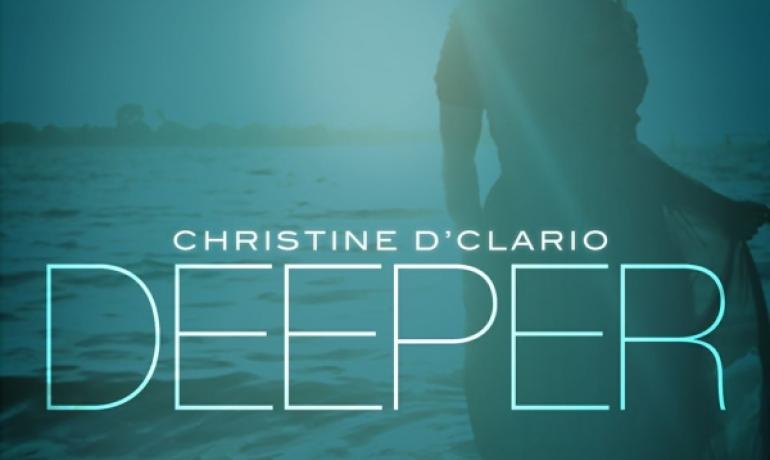 COLORADO SPRINGS, Colo. — Integrity Music announces the much-anticipated February 19th global release of Deeper, the first English language album from beloved Latin-American worship leader Christine D'Clario, along with the simultaneous release of its Spanish language counterpart, Mas Profundo.
Loved by millions of Spanish speaking worshipers around the world, D'Clario is perhaps best known for her Premios Arpa and Dove Award nominated album De Vuelta Al Jardin (Back To The Garden). The music videos from this project have garnered an amazing 10 million views on Youtube, including over three million views for her performance of the song "El Nos Ama" (How He Loves).
Produced by Paul Mabury (All Sons & Daughters/Hillsong) and featuring songs written specifically with the global Church in mind, D'Clario's passion for her faith is evident from the first note on Deeper. Whether it's a joyful standout track like "Reign," that expresses her desire to see God's Kingdom on Earth, to the soulful strains of "Faithfulness" or "Magnified," a timely anthem for the redeemed, Deeper is filled with relevant reminders of the joys of being in God's presence.
We're on the shore dancing in your freedom / Here to bathe in the light of your love /
Lead us down, deeper into the river… "Reign"
Adding fullness and texture to Deeper is a vibrant musical palette that pulls from a variety of influences, everything from organic instrumentation to dance beats. But perhaps, the best instrument of all is D'Clario's expressive voice. In addition to having a wide vocal range, her raw passion bleeds out whenever she worships. And it is that passion that draws listeners in as she shares new songs written with Leslie Jordan (All Sons & Daughters), Anthony Skinner and Daniel Bashta. D'Clario also delivers her own take on favorites such as "Your Presence Is Heaven" (Israel and New Breed), "Pursuit" (Bashta) and "Magnified" (Desperation Band).
The complete track listing for Deeper is:
1. Reign
2. Magnified
3. Pursuit
4. Anchor (feat. Leslie Jordan – All Sons & Daughters)
5. Faithfulness (with Great Is Thy Faithfulness) (feat. Anthony Skinner)
6. Holy (It's The Name)
7. Arise
8. Who Is Like The Father
9. Father of Mine
10. Your Presence Is Heaven
"In my walk with God, I've learned to always be thankful, yet never satisfied," says D'Clario. "There is always more of Him to encounter. Upon finally understanding this, after many bouts with myself, I decided to plunge into deeper, unchartered waters in my faith. And it is in the beautiful uncertainty of blindly chasing after His presence that Deeper was birthed. I truly hope that all who lend an ear to what's on this piece of my heart may seek and find new depths in God, and let go of the fear of what remains to be encountered on this journey."
D'Clario adds, "We often talk about the love of God, but sometimes our lifestyles are the biggest denials of Him… there was a time when my behavior hurt God more than it glorified Him. Had it not been for redemption and deepening my relationship with God, who knows where I would be?"
"My greatest desire with Deeper is that the Church, collectively and individually, can come to know sides of God's love and personality that they never have before," she continues. "I long to see it inspire them to plunge into the depths of God's love in such a way that nothing else matters more. Furthermore, I hope that it sparks in those who haven't met Jesus, the desire to open up to His love and be transformed."
D'Clario will be sharing music from Deeper and Mas Profundo at her home church, Gateway, near Dallas, Texas, and with congregations around the world. In addition, she will be a featured worship leader and instructor for the National Worship Leader Conferences held in Pennsylvania, Kansas and California http://www.nationalworshipleaderconference.com. And, she will lead worship for the international "Expolit" conference in May and the National Hispanic Prayer Breakfast in Washington, D.C. in June.
Deeper and Mas Profundo will be available in Christian book and music stores and through all major digital service providers, including Amazon and iTunes, beginning February 19. Her single, "Magnified" is available now at iTunes.