No albums list this artist in credits. You are able to edit albums and add credit info if you have created an account.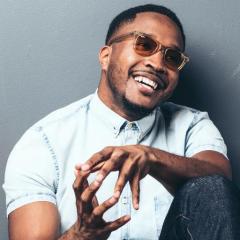 Young Noah
Everybody's got a story, this much is true, but for a young rapper named Noah, his life's journey has a decidedly cinematic quality, full of thrilling twists and turns and even a surprise ending to boot. Homeschooled until 5th grade and raised in a family where associating with anything remotely worldly was taboo, the day-to-day existence outside the four walls of his childhood home was a dangerous one. Once Noah actually began going to a "real" school, he was recommended to the local Boys & Girls Club because it was a gang outreach program. And it was during his time with Boys & Girls Club when Noah first started experimenting with rhymes and beats. As one of the program's role models, the first songs he wrote reflected on positive themes, namely having the courage to say no to drugs, alcohol and gangs. Despite coming to Christ at a young age and being a regular fixture at Boys & Girls Club, however, the normal teenage pressures of popularity eventually took their toll, too. Not surprisingly, the new music Noah was writing also reflecting his changing worldview. But even as Noah began to drift, God never stopped pursuing him. Funny enough, it was a night when he was drunk when God began stirring his heart. "I remember I was driving, and God spoke to my heart," Noah shares. "He began to ask 'What are you doing with your life? How did you end up here?' Look at the example you're setting for your brothers." In that moment, Noah knew he needed to change for good this time. So the self-professed thug with the gold teeth and long dreadlocks rekindled his relationship with God, a decision that set his life on an entirely different course. Naturally, Noah never expected to rap about Jesus, but that's exactly what he does now with creativity and fearless abandon. Signed to Clear Sight Music, a boutique label started by renowned rapper Flame, Noah is excited about sharing how God changed his life and will do the same for anyone who seeks Him. "I'm still blown away by how God has worked in my life, and I've been writing like a maniac in the meantime. I may even have enough material for six albums by now," Noah jokes. "See, what's so great about rap is that it's almost like a sermon. I think it's the most direct way you can communicate through music, and yet you can bop your head to it. I can talk about ten different things in one rap song, and I absolutely love that."
Websites:
External links are provided for reference purposes. Christian Music Archive is not responsible for the content of external internet sites.
NASHVILLE, Tenn.—First Company Management (FCM), one of Christian music's leading multi-faceted entertainment firms, announces the creation of Level Change Music.