No albums list this artist in credits. You are able to edit albums and add credit info if you have created an account.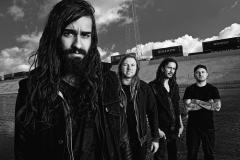 Write This Down
Before now, "write this down" was just a phrase people threw around. But after the world gets a hold of the debut album from Write This Down -- the band -- it'll stand for something else entirely.
Remember the first time you heard Brand New, Foo Fighters, Taking Back Sunday, or Underoath? Remember that primal urgency that drove Rage Against The Machine? Get ready to feel it again.
An intense power-trio equal parts dirty rock riffery and soaring, bombastic melodies, Write This Down stands poised to turn the modern rock world on its head with scene-bred and radio rock schooled emotional power steeped in faith and hopefulness. "We play a lot of heavier shows, but we're the one band that stands up there and does harmonies," explains guitarist Nate Rockwell.
Rockwell's diverse guitar, Chad Nichols' powerful drumming and Johnny Collier's powerfully anthemic and alternately personally reflective vocals: that's what you get with Write This Down, the layers of instrumentation being stripped away in favor of layers of harmony and thoughtful dynamics.
Produced by Rob Hawkins in Nashville, the self-titled Tooth & Nail debut from these native Minnesotans is instantly engaging. From raw power to beautiful balladry, it's all here.
"Alarm the Alarm" sets the tone, the perfect blend of heavy rock power and poppy melody. "We Shot the Moon" is as catchy as it gets, while "Renegade" is super muscular and almost metal. "'Redemption' has probably the best bridge we've ever written," Rockwell says of a song that, like the intro to "Handgrenades," features more than a few sonic nods to Tom Morello while sounding distinctly like Write This Down. The collection of songs composes a whole that defies the band's youth. It sounds like the third or fourth album from seasoned professionals, not a debut.
And while the album makes a statement of its own, what it's really about for Write This Down is the chance to travel, perform live, and meet people face to face, wherever they are. "We'll meet people who will take us into their houses, feed us, we're developing lifelong relationships," Rockwell says with awe. "You get to meet people doing this that you never would have met any other way."
It's that senses of community, honesty and faithfulness that drives Write This Down. When it's all said and done, they want to be remembered for what mattered. "We're a band that gives it everything," Rockwell summarizes. "We try to make every show better than the last."
Write This Down Biography. (n.d.). Retrieved May 21, 2012, from Tooth & Nail website: http://www.toothandnail.com/artists/285/Write_This_Down/bio/
Websites:
External links are provided for reference purposes. Christian Music Archive is not responsible for the content of external internet sites.