No albums list this artist in credits. You are able to edit albums and add credit info if you have created an account.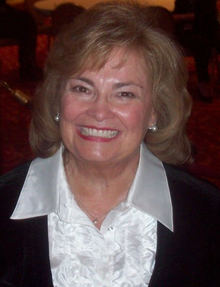 Vonda Van Dyke
Vonda Kay Van Dyke (born 1943) was crowned the 1965 Miss America on September 13, 1964. Earlier in the year, she had taken a break as a 21-year-old junior at Arizona State University to become Miss Arizona. She is unique among pageant winners in that she was and still is the only Miss America who was also Miss Congeniality.
Vonda Kay Van Dyke was born in Muskegon, Michigan. Her father, Dr. A.B. Van Dyke, was an osteopath. The family moved to Phoenix, the seat of Maricopa County, Arizona, where Vonda attended the Phoenix Christian Junior/Senior High School. In her senior year she entered a local America's Junior Miss pageant, where she surprised the judges and her fellow competitors by performing ventriloquism as her talent, which she later honed at the Phoenix amusement park, Legend City. She was named Arizona's Junior Miss for 1961, and traveled with "Kurley-Q" to Mobile, Alabama, for the national finals, where she placed in the top ten. Her next major pageant was the 1962 Miss Phoenix competition. She did not win there, but remained persistent in her pursuit of a trip to Atlantic City, New Jersey, and her dedication bore fruit when she won the Miss Tempe crown in 1964, then Miss Maricopa County, then Miss Arizona, and finally Miss America, where she was the first contestant to use ventriloquism in the talent competition.
Van Dyke continued in the spotlight for some years after having relinquished her crown. In 1966 she wrote a Christian-themed teen advice book called That Girl in Your Mirror, in which she advised young women to become more beautiful by adopting "that inner sparkle that only Christ can give." Her official Miss America bio says that a million copies of the book were sold in hardcover. Other sources dispute the number. Whatever the precise sales number may have been, the book was successful enough to merit a follow-up called Dear Vonda Kay, which came out in 1967, and consisted of letters to Van Dyke and her replies. Van Dyke subsequently also recorded Here's Vonda Kay and some other albums of inspirational songs.
Van Dyke currently lives in Laguna Beach, California. She is the widow of David Tyler Scoates (October 26, 1934–May 6, 2000), a minister formerly of Florida. She has one daughter from that marriage.
Vonda Kay Van Dyke. (2012, November 20). In Wikipedia, The Free Encyclopedia. Retrieved 14:14, January 18, 2013, from http://en.wikipedia.org/w/index.php?title=Vonda_Kay_Van_Dyke&oldid=524011092