No albums list this artist in credits. You are able to edit albums and add credit info if you have created an account.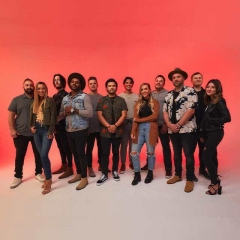 Thrive Worship
Thrive Worship, which started as the worship team for Bayside Church in Sacramento, CA, has quickly bloomed into a sprawling, eight-campus worship family whose songs and weekly Sunday night worship services are transforming their Northern California community. An ever-growing, ever-evolving group of diverse singers and musicians, Thrive Worship is writing new songs for the church that sing of hope for the future and love for the Savior.
Thrive Worship. (n.d.) About Thrive Worship. Retrieved 22-Sept-2021. http://thriveworship.band/#about-section
Websites:
External links are provided for reference purposes. Christian Music Archive is not responsible for the content of external internet sites.