No albums list this artist in credits. You are able to edit albums and add credit info if you have created an account.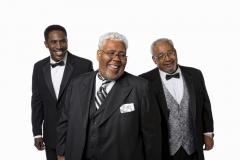 The Rance Allen Group
The Rance Allen Group (RAG) is one of the most explosive groups to emerge from the legendary Stax Records label in the 1970s. Their sanctified soul hits such as "Ain't No Need of Crying," "I Belong To You," and their consecrated cover of The Temptation's "Just My Imagination" placed them in a pantheon of deep soul artists like Otis Redding and Isaac Hayes. In the decades since, the Allen Brothers (Rance, Tom and Steve) have built on that foundation with their Tyscot Records-era hits such as the R&B crossover smash "Miracle Worker," "Do Your Will," and "Something About The Name Jesus." Their sacred-secular musical fusion, chunky harmonies, lyrical messages of faith and fraternity, and Rance's stratospheric falsetto have made them standout as one of the most dynamic groups to ever shuffle across the stage of Harlem's famed Apollo Theater.
RAG's 2004 The Live Experience (Tyscot) CD is arguably the best-selling album of its career. The project features some of their fan favorites with cameos by modern-day gospel megastars such as Kirk Franklin, Fred Hammond and LaShun Pace. The album remains a brisk seller six years later. As they celebrate their 40th anniversary, RAG will now release The Live Experience II: Celebrating 40 Years of Music and Ministry (Tyscot) on January 25, 2011. Outside of including two medleys of their past hits, the new set is comprised of future classics such as "You That I Trust" and "Angel." Joining RAG for the musical merry-go-round are Gospel's First Lady, Shirley Caesar; veteran gospel star Vanessa Bell Armstrong; and the life of any musical party, Paul Porter.
Recorded before a packed church at Detroit's Greater Grace Temple, the new eleven-track set is destined to go down in history as one of RAG's finest recordings. The album opens with a medley of their disco-era hits "We Care A Lot" and "Let The Music Get Down In Your Soul." The lead single, "You That I Trust," is a duet with Paul Porter, front man for the renowned quartet group, The Christianiares. Dipped in a succulent, soul stew of the Allen Brothers' rich harmonies, Allen and Porter's volcanic voices explode over this sonic gem about learning to trust in God completely. Another soulfully delicious ballad is "Angel" which features bassist Gordon Henry's dreamy Jimi Hendrix/Ernie Isley stratocaster-vibe humming quietly in the background as Allen and Steve testify about the divine apparitions they've encountered at the crossroads of their lives.
"What He's Done" percolates with a galloping rhythm that finds Allen and Tom trading verses on this tune about "joy bubbling" in their souls. RAG takes time out to offer up a reverential praise and worship ballad in "Holy One" which finds the trio backed by the Cincinnati quintet, Called II Worship. They then take us to the Mississippi Delta for a bluesy reprieve on a medley of "He Delivered Me - Hear My Voice." The former hails from RAG's 1995 CD, Phenomenon, and the latter was the title track of their 1983 LP. During a band-breakdown, Allen tells the story of God hearing his prayer when he and the brothers missed the plane taking them to perform at WattStax - the infamous 1972 black power concert at the L.A. Coliseum that's become known as the Black Woodstock.
RAG's musical director, Chris Byrd, serves as producer and co-wrote seven of the songs with one or more of the brothers. He skillfully blends their old school soul with new school sweeteners to keep the music fresh. The album thumps with roaring, upbeats such as the steamroller, "Love Train," and the rock-edged smoker, "Living For Jesus" that features Shirley Caesar, a Grammy-winning gospel legend known for her 1975 million-seller, "No Charge." Another vocal dynamo, Vanessa Bell Armstrong, joins the brothers on the danceable track, "It's Your Time." RAG digs into their vast catalogue to resurrect their Stax-era hits "Smile" and "Feel Like Going On" as an uplifting medley. All of the guest artists join the brothers for the anthem-like brotherhood tune, "United We Stand."
Brotherhood is the underlining theme to RAG which has maintained the same line-up for all of its 40 year history. Their story began in the paper mill city of Monroe, MI where Rance Allen was born November 19, 1948. One of twelve children, he began preaching as Little Rance Allen and singing at the age of five. "We were raised in a family where you went to church every single night," Allen once told Gospel Flava.com. "To keep our interest, my grandmother went to a pawn shop and brought instruments, drums, guitars and amplifiers." Using records by the Rev. James Cleveland and occasionally a Ray Charles tune as his guides, Allen learned to play the piano before picking up the guitar with Chuck Berry as an influence. His grandparents served as his agents, but he once told writer Lee Hildebrand, "I didn't have a life like most kids had. I wasn't allowed to go out and play baseball with the guys and do the things a kid does."
irca 1968, the kid, with himself on guitar, started the Rance Allen Group with his older brother Tom on drums, and younger brother Steve on bass. They recorded their first song "Let's Get Together and Love" for the local Reflect label. It was poorly distributed, so they packed the wax singles in their instrument cases and sold them at their shows. Then, in 1971 they won a prize of $500 at a Detroit talent contest where legendary Stax Records promotion man Dave Clark was in the audience. Clark liked what he heard and took RAG into the studio that very day when they recorded an album's worth of material that was purchased by Stax Records, the gritty counterpoint to Motown in the 1960s.
Stax President Al Bell loved RAG's music so much that he sired The Gospel Truth subsidiary specifically to promote RAG. The group's first single was "Just My Salvation," a 1971 gospel cover of The Temptations' "Just My Imagination." Soon, RAG was appearing on bills with the likes of The Dramatics and Barry White and taking their R&B-infused gospel to an un-churched audience. Over the next few years, the Allen Brothers' studio sessions were laid by some of the finest players in the history of R&B. There was Lester Snell who played piano on Isaac Hayes' "Shaft" and Shirley Brown's "Woman To Woman." They also had Al Jackson Jr. the drummer on Booker T. & the MGs' "Green Onions" and Otis Redding's "Sittin' On The Dock of the Bay." What better bass player was there then Donald "Duck" Dunn who played on Wilson Pickett's "In The Midnight Hour." RAG built a solid following off of their hits such as "I Got to Be Myself" and James Cleveland's "That Will Be Good Enough for Me."
In 1975 The RAG snagged a deal with Capitol Records where R&B sensations Natalie Cole and Peabo Bryson were receiving most of the label's attention. RAG released a couple of albums before returning to Stax in 1979 after the company was purchased and reorganized by Fantasy Records. During this period, RAG enjoyed its biggest Stax hit with the R&B-styled love song to God, "I Belong to You." From there, RAG moved to Myrrh Records where they recorded two albums, including, I Give Myself To You, that peaked at #5 on the gospel chart in 1985.
It was during the l980s that Allen really began to focus on his preaching ministry. Church of God In Christ (COGIC) leader, Bishop G.E. Patterson, began to mentor him. Under his guidance, Allen founded the New Bethel Church of God COGIC in Toledo, OH in July 1985. Aside from preaching at his own church, Allen spent a lot of time on the road evangelizing with Patterson. RAG didn't record again until former Stax chief, Al Bell, launched Bellmark Records in 1991. They rolled out with a tight, R&B friendly album entitled, Phenomenon. The CD hit #1 on the gospel sales chart and remained on the chart a solid year. The lead single "Miracle Worker" received massive gospel airplay and even reached #32 on the R&B single chart. It was five years before RAG's next CD,You Make Me Wanna Dance, and another six years before the group's Deitrick Haddon-produced Tyscot Records debut CD, All the Way, in 2002. Since joining Tyscot, RAG has enjoyed a career resurgence as their music has been introduced to a new generation through their remakes of "Miracle Worker" with Fred Hammond and "I Can't Help Myself with Lashun Pace. They've also enjoyed new hits with "Do Your Will," "Closest Friend," and the Kirk Franklin duet, "Something About The Name Jesus."
Four decades into their career, the music industry has now begun to honor RAG's groundbreaking work in bridging R&B and gospel. They received a the Bobby Jones Legend Award during the 2009 Stellar Awards and were feted in a BMI Trailblazers of Gospel ceremony in 2008. The Allen Brothers and their respective wives and families all live in Toledo now. Steve is a physical therapist with the St. Vincent Medical Center and Tom is retired from the State of Michigan after a 39 year tenure. Allen still pastors New Bethel COGIC where his wife, Ellen Marie Allen, is very active in supporting his ministry. When asked what he'd like his legacy to be, Allen says, "I would love it if they said Rance loved God, he loved music, and he loved people. If God was given glory in the music. If music was played and performed and anybody who heard it was blessed. Something like that..."
Websites:
External links are provided for reference purposes. Christian Music Archive is not responsible for the content of external internet sites.