No albums list this artist in credits. You are able to edit albums and add credit info if you have created an account.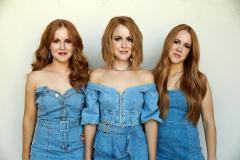 Taylor Red
Taylor Red is a Christian country identical red-haired triplet sister trio from Wade, Mississippi, where they were all born on March 18, 1991, and they were raised as Christians by their parents. The sibling members are youngest, Nika Lea Taylor, their lead vocalist, and guitarist; the middle-child, Natalie Jean Taylor, their high harmonies vocalist, keyboardist, violinist, bassist, and mandolinist; and eldest sister, Nicole Helen Taylor, their low harmonies vocalist, banjoist, guitarist, and drummer.
The sister trio started as a musical entity in 2011, with their first independently released album, Red Roots, which was released on January 24, 2011, with Red Hen Records. Their subsequent studio album, The Middle of Nowhere, was released on March 20, 2012, by Red Hen Records. They released, Triplicity, the third studio album, on January 7, 2014, from Red Hen Records alongside Daywind Music. The group was signed to Inpop Records in 2015.
Wikipedia contributors. (2021, April 21). Taylor Red. In Wikipedia, The Free Encyclopedia. Retrieved 17:26, May 1, 2021, from https://en.wikipedia.org/w/index.php?title=Taylor_Red&oldid=1019054881
Websites:
External links are provided for reference purposes. Christian Music Archive is not responsible for the content of external internet sites.