No albums list this artist in credits. You are able to edit albums and add credit info if you have created an account.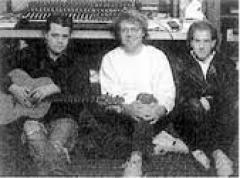 Strawmen
The Strawmen were essentially the Seventy Sevens with Mark Harmon's brother Bill (instead of Michael Roe) on vocals. Despite their album's release date, Strawmen were pre-Seventy Sevens. The sessions were recorded in 1987 when the trio was just a garage band from Sacramento, California. Mark Harmon and David Leonhardt were recruited by Roe to make up a new incarnation of his band for the '90s. The sessions on At Home were never intended for public release, and Liquid Disc put them out in response to historical interest in the band on the part of Seventy Sevens fans.
In 2003, the Strawmen reformed—featuring Roe on guitar and background vocals—and released Saving Faded Dreams, considered by many as a musical continuation of The 77s' Pray Naked.
Powell, M. A. (2003). Strawmen. In Encyclopedia of Contemporary Christian Music (2nd ed., pp. 889). Peabody, MA: Hendrickson Publishers, Inc.
Strawmen. (2006, July 6). Retrieved April 22, 2016, from Christian New Wave website: https://christiannewwave.wordpress.com/2006/07/06/strawmen/