No albums list this artist in credits. You are able to edit albums and add credit info if you have created an account.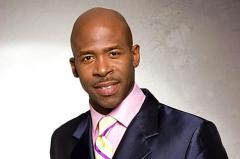 Ricky Dillard
Ricky Rydell Dillard is an American gospel musician, born on February 25, 1965, in Chicago, Illinois. His mother and grandmother imparted to him a love of gospel music, and he was raised in the church singing in the choir at five years old, and eventually got the opportunity to direct the youth choir at St. Bethel Baptist Church.
All of his albums charted on the Billboard Gospel Albums chart. His No Limit album charted on the Christian Albums chart, and the album Unplugged charted on the Independent Albums chart along with the releases Keep Living, and Amazing that also charted on The Billboard 200. He was nominated at the Grammy Awards twice, the first time in the Best Contemporary R&B Gospel Album category at the me at the 57th Annual Grammy Awards in the category Best Gospel Album for Amazing.
Ricky Dillard. (2015, March 22). In Wikipedia, The Free Encyclopedia. Retrieved 13:20, April 17, 2015, from http://en.wikipedia.org/w/index.php?title=Ricky_Dillard&oldid=652969928
Websites:
External links are provided for reference purposes. Christian Music Archive is not responsible for the content of external internet sites.