No albums list this artist in credits. You are able to edit albums and add credit info if you have created an account.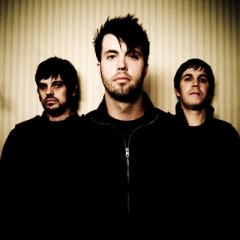 Project 86
Project 86 is an American Christian rock band from Orange County, California, formed in 1996. The band has released seven studio albums, which have collectively sold nearly 500,000 units worldwide, two EPs, two DVDs, and one live album. Their music is characterized by a rock/post-hardcore/alternative style. Frontman Andrew Schwab's poetic and introspective lyrics have addressed a wide variety of topics such as conformity and emptiness.
The band was started by Schwab as a way to inspire people to live their lives with hope. In 1998, BEC Recordings released a self-titled debut album that was well received by critics and consumers. Their second release, Drawing Black Lines, garnered attention from mainstream record labels; Atlantic licensed the album from Tooth & Nail Records, the parent company of BEC. The band's third release, Truthless Heroes, was released exclusively by Atlantic, after the band was bought-out of their original deal with Tooth & Nail. The band parted ways with Atlantic shortly after their third release, upon which they had a short stint as an independent. The band then negotiated a new contract with Tooth & Nail, and subsequently released three more albums, the last one being Picket Fence Cartel in summer 2009. After fulfilling their last agreement with T&N, in December 2011 the band announced a Kickstarter campaign via their official website and Facebook page, stating that "the fans are now our record label." Their eighth studio release, Wait for the Siren, was released on August 21, 2012.
Websites:
External links are provided for reference purposes. Christian Music Archive is not responsible for the content of external internet sites.