No albums list this artist in credits. You are able to edit albums and add credit info if you have created an account.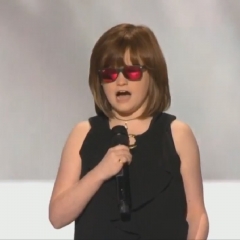 Marlana VanHoose
Marlana was born with Cytomegalovirus (CMV), by the time she was a few weeks old it was discovered that she was blind. Her optic nerve never formed. She was not expected to live past one year. At the age of two, Marlana was diagnosed with mild cerebral palsy. 
But God knew better, He had special plans for Marlana. After Marlana turned a year old her body healed from the virus and that is when it all began. Marlana was humming "Jesus Loves Me" before she talked and by the time she was two years old she started playing the piano.
She has sung all over the United States at various events & churches. Marlana is a three time Heritage Award Recipient through the Artist Music Guild. Marlana sang the National Anthem at a University of Kentucky Women's Basketball game in 2012. This was placed on YouTube and the video went viral. Since then, CBS evening news aired her story, she has sung at 3 NASCAR Sprint Cup Series Races, NCAA women's basketball tournaments and at several NBA basketball games, as well as many other events & churches across the USA. She has also sung for the 2015 NBA Playoffs including the 2015 NBA Finals, Game 6. ESPN-E-60 aired "Loud and Proud" a story about Marlana and the UK women's basketball. Marlana appeared on the Atlanta Live Gospel Show and Babbie's House, a gospel show in Atlanta, GA. She has also appeared on various other shows such as Inside Edition & Entertainment Tonight. Marlana has also had the honor of singing at Carnegie Hall in NY City & Madison Square Garden for the NY Rangers. Marlana has been commisioned a Kentucky Colonel. She sings regularly with Best Buddies & United by Music North America organizations. Marlana performed at the 2016 Republican National Convention & also at the 2017 Inaugural prayer service!! Marlana met President Trump at a 2017 Rally in Louisville, KY. The first thing she told him was that, "Jesus Christ & God's word will be the only one that will make America Great Again with your help."
Marlana has invited Jesus into her heart and has been baptized. She loves God very much and says she has no need to see here on earth. She knows that when she gets to Heaven, Jesus will be the first face she'll see. - from Marlana's website https://www.littlemarlana.com/my-story.html
Websites:
External links are provided for reference purposes. Christian Music Archive is not responsible for the content of external internet sites.