No albums list this artist in credits. You are able to edit albums and add credit info if you have created an account.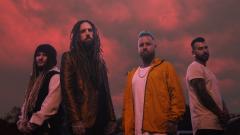 Love and Death
Love and Death is an American Christian metal band formed by Korn guitarist Brian "Head" Welch. The group was officially announced in February 2012 as a re-branding of Welch's solo music project.
The group is effectively a re-branding of the touring group that performed under Welch's name to promote his solo album. Formed in 2009, Welch recruited musicians through open auditions via YouTube, and second-round auditions, in person, at his studio in Phoenix, Arizona. The original group was a six-piece group, that featured Michael Valentine on bass, Ralph Patlan on guitar, Brian Ruedy on keyboards, Scott "SVH" Von Heldt on guitars and vocals, and Dan Johnson on drums. After two years of touring, Von Heldt departed the band due to financial reasons, Ruedy was let go a few months earlier and later joined Whitesnake. Patlan also departed the band, but no reason was given. The search began to find a guitar player. In March 2011, two weeks before a tour, Welch discovered "the perfect fit" for his band through Thousand Foot Krutch's public audition videos for a new guitarist on YouTube. 15 years old at the time, J.R. Bareis was chosen by Welch to be the new guitar player and became an official permanent member of the band, as they settled on establishing themselves as a four-piece. The group released a single, "Paralyzed" in November 2011, under the Brian "Head" Welch name. In February 2012, the touring band was re-branded into the group Love and Death.
Love and Death was formally announced in February 2012 through an official statement made by Welch. In the statement, Welch explained that "I have wanted to use a band name for branding my music for a few years. It has been an ongoing discussion with my management, but we were just starting to tour and I was in the middle of supporting my third book and it seemed like a bad time to switch names. Now with the new music coming out, it's time to really separate the things I do. I want the music to be about music. I will still be doing public speaking under Brian Head Welch. I am happy that all the confusion will be over". The name Love and Death was chosen because love and death are the two most significant things you can go through in life.
Wikipedia contributors. (2020, November 26). Love and Death (band). In Wikipedia, The Free Encyclopedia. Retrieved 18:06, November 27, 2020, from https://en.wikipedia.org/w/index.php?title=Love_and_Death_(band)&oldid=990707396
Websites:
External links are provided for reference purposes. Christian Music Archive is not responsible for the content of external internet sites.