No albums list this artist in credits. You are able to edit albums and add credit info if you have created an account.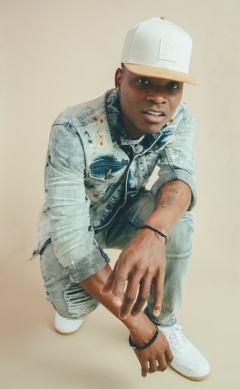 Lathan Warlick
"The end of 2011 should've been the end of my story," he says. But instead, a near-death experience drove him to a deeper Christian faith and a recognition of his lyrical mission – to write and rap original music that shares the message and meaning of these milestones.
The Jackson, Tennessee, rapper self identifies as a "positive artist" who reflects on his upbringing in a rough neighborhood and his transformative perspective as a Christ-follower, husband, and father in his songwriting.
Born in Jackson, Tennessee, he lived across the U.S., working as a welder by trade, first at a shipyard and then on a railroad. He continued to work until December 2020, even while spending weekends in Nashville collaborating with the city's top singing and songwriting talents. However, it was not until one life-changing day, when he came face to face with a 45-caliber pistol, that he was awakened to his creative purpose.
He started performing at talent shows as a dancer, in a hip-hop style locally referred to as "Memphis jookin'" – think Michael Jackson meets Usher. These performances gave way to his first viral moment when Chris Brown reposted his dancing on his Instagram. "That's when things started going to another level," Warlick explains.
After a pivotal conversation at a church event, he realized that his music, not his dancing, was his true calling. So he synthesized his form of performance art – videos of him sitting in his truck, adding his rap verses to popular songs like "Holy" by Justin Bieber, "The Box" by Roddy Ricch, "Memories" by Maroon 5, "Hello" by Adele, and "You Say" by Lauren Daigle – all filmed on an iPhone and shared on social media.
With social media as his primary platform, his accounts began to see organic growth. With more than 1.7 million on TikTok, Warlick started seeing new collaboration opportunities, such as opening for Kirk Franklin twice in 2018 and his musical poetry featured on Granger Smith's "That's Why I Love Dirt "Roads" in 2020.
In August 2020, he signed his first record deal with RECORDS Nashville/Columbia. As he continues his mission of positivity and defying labels, Lathan's socials show him in the studio, writing and recording with artists like RaeLynn and Florida Georgia Line's Tyler Hubbard, with plans to continue working with incredible artists across all genres in keeping with his signature mantra: "do different, be different."
Press Release. Merge PR. (12-Aug-2022). Lathan Warlick Drops New EP Today, Let's Be Honest.
Websites:
External links are provided for reference purposes. Christian Music Archive is not responsible for the content of external internet sites.